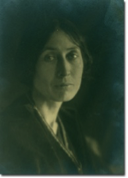 Lola Ridge was an Irish-born poet who eventually settled in America. Her writing style was heavily influenced by the difficult circumstances in which she lived all her life. She was an active feminist who contributed regularly to Marxist-based publications and her behaviour often bordered on anarchy. She was a great supporter of lost causes and her Jewish background almost certainly shaped her, both as a writer and as a person. A lot of her work was of the almost epic variety and she is well known for her poem The Ghetto which gives the reader a vivid picture of life in a poor, New York neighbourhood in the early 19th century.
She took the name "Lola" in later life but she was born Rose Emily Bridge in December 1873 in the Irish capital city of Dublin. At the age of 13 her mother took her to live in New Zealand and Rose married there in 1895. This was short-lived however and she decided to emigrate once more, to Australia, where she studied art at the Académie Julienne in Sydney. Her mother died prompting her to move yet again, this time to San Francisco where, in 1907, Lola Ridge started to establish herself as a serious writer and painter.
Lola soon realised that she needed to be in New York where there was a strong, avant-garde writing fraternity. She fitted into the Greenwich Village scene very well and her political views came to the fore in a number of published articles. She was described as:



1918 saw the publication of her first book of poetry – The Ghetto and Other Poems. The title poem really brought her name to the attention of literary critics and it was recognised straight away that Lola Ridge was a huge talent. Her angry, anarchistic tone hit out at capitalists and those who would prefer to maintain their prejudicial views on gender and generational conflict. In contrast though this poem sought to portray her fellow immigrants as individuals with qualities and faults just like anyone else, and who should be allowed to live a peaceful life in their new home. Here are the opening verses which immediately immerse the reader in the steamy, oppressive heat of a New York street in the early part of the 20th century. The whole neighbourhood is populated by Jewish people, all trying to make a life, and a living, as best they can: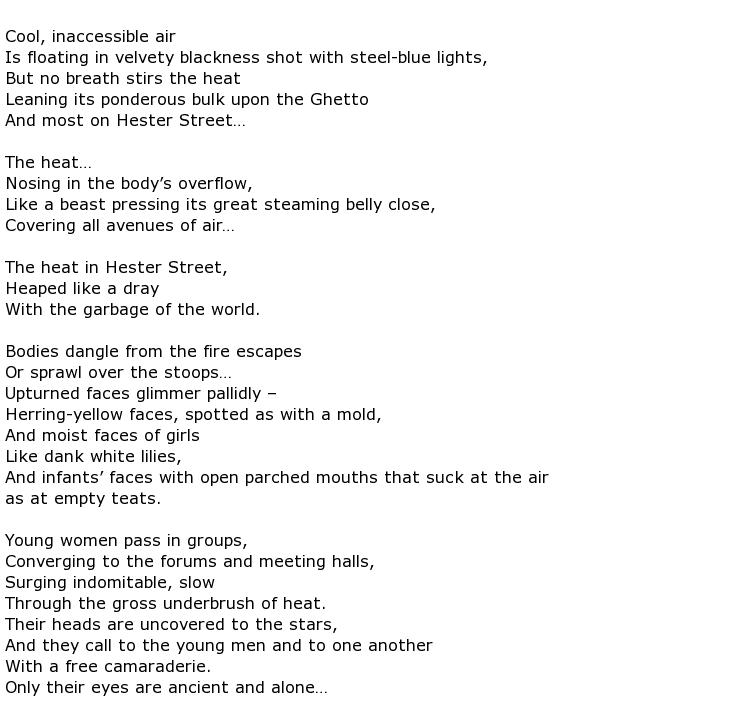 Ridge produced a further four books of poetry and these, and her other work, led to her being made a Guggenheim Fellow in 1935 and, the following year, winning the Shelley Memorial Award.  She never shied away from her political views and yet she was never tempted to join the Communist Party or anything similar. It was all written down though in over 60 poems that were published in "New Republic" and "The New Masses", along with other similar American publications. Her major political collection of poems can be found in Red Flag, published in 1927.
In Ridge's later years her writing took on a more philosophical tone and she was still having work published up to a few years before her death.
Lola Ridge died of pulmonary tuberculosis in May 1941. She was 67 years old.