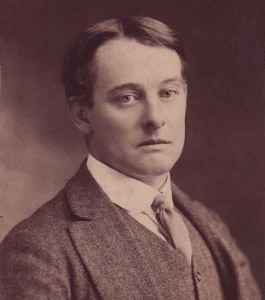 Nicknamed 'Bosie', English poet and author Lord Alfred Douglas was born in 1870 in Worcestershire and is most notable for his relationship with literary giant Oscar Wilde that led to the Irish writer's imprisonment. Brought up in a well-to-do family, Douglas attended school in Wokingham, went on to Winchester College and then entered Oxford but failed to graduate with a degree.
Douglas got to known Oscar Wilde, who was twice his age and married, whilst at Oxford and the two developed an enduring and close friendship. However, Douglas' father, the Marques of Queensbury, took exception to Wilde and threatened to have his son disinherited. This eventually ended in Wilde taking the unwise decision of suing the Marques for libel, something that finally led to the writer's imprisonment and two years hard labor for his homosexual conduct.
During the trial, one of Douglas' own poems was used as evidence against Wilde. His 1892 work, Two Loves, contains perhaps one of the most well-known poetic lines in: "the love that dare not speak its name." Whilst Wilde's other friends turned against him during this time, Douglas remained loyal and, on his lover's release from prison, they lived for a while in Rouen in France though they separated later. Wilde finally died in at the turn of the century and Douglas acted as his chief mourner.

In 1899 Douglas published The City of the Soul and two years after the death of Wilde married poetess and heiress Olive Custance with whom he would have one son. They separated twelve years later after Douglas converted to Roman Catholicism although they cohabited for a time afterwards. With his religious conversion Douglas changed his stance about his friend Wilde, saying that the man was a force for evil.
Douglas seemed to have become a lover of libel actions at this time and was even involved in a prosecution by Winston Churchill and, in 1924, he was sent to prison. There he began work on his last great work, In Excelcis, which he had to rewrite when the prison authorities refused permission for him to take the finished manuscript with him on release.
Throughout his life, Douglas published a number of volumes of poetry that included The Placid Pug in 1906 and Sonnets in 1909. After his release from prison he had to cope with the deteriorating health of his son who had mental health problems but his attitude to Wilde's legacy also softened considerably. Much of his poetry had been written prior to the start of World War I but his work after that suffered from the fact that people were starting to move away from the classical meters of the past.

During his lifetime, Douglas was compared by George Bernard Shaw to Shelley and a number of biographies were written about him. Douglas died at the age of 74 from heart failure in 1945 as World War II was drawing to a close. He was buried alongside his mother at the Franciscan Friary in Crawley.