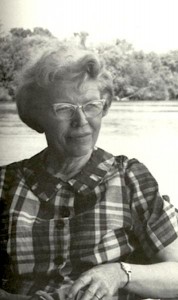 Born in Wisconsin in 1903, Lorine Niedecker was a poet influenced by the early work of the surrealists and imagists who became part of a loosely connected group of artists who were known as objectivists. Niedecker spent a large part of her life in the same rural setting, close to Lake Koshkronong, working in many jobs including a librarian and a cleaner, where she eventually married and lived out her 67 years.
Partly because she was so isolated and partly because of her reticence in being published and becoming a full time poet, Niedecker wasn't well recognized until much later in life. Her first collection of poetry, New Goose, was published in 1946 and it was another fifteen years before she wrote her second, My Friend Tree, which ended up being published in England.
Her early poetical influences were the likes of Ezra Pound and New York writer Louis Zukofsky. It was Zukofsky who took an interest in Niedecker's work and offered some form of mentoring and they corresponded until her death in 1970. Originally objectivist in her poetry, in later life she became comfortable with her own style and moved away from more conventional schools of writing.

Her poems mostly involved the people who surrounded her, friends and families who inhabited the small world along the Rock River in Blackhawk. Her first poems were published in the magazine Poetry after she first contacted Louis Zukofsky who had prompted her to send more work to him. Although she stayed in Blackhawk most her time, she did travel up to New York to meet with Zukofsky and ended up having a child by him.
There's no doubt that Niedecker was a late bloomer when it came to poetry and in part her later success was down to the English publishers who decided to take on her work. After the publication of My Friend Tree, she produced T & G: The Collected Poems and My Life by the Water. It put her in contact with a number of poets of the day and, spurred on by their encouragement, she found a new focus as she reached her 60s. She wrote some longer works such as Wintergreen Ridge and the beautifully Gothic Paean to Place.
Throughout her life she only ever produced four published collections but found a place for individual poems in some of the major magazines of the day such as Origin. Neidecker also married late in life, in 1963 to an industrial painter called Al Millen. In 1970 though, she suffered from a cerebral hemorrhage and died suddenly at the age of 67.

Like many poets, her reputation seemed to evolve more after her death and she is now seen as one of the influential American writers of the 20th Century. A number of works were published posthumously including Blue Chicory and Granite Pail as well as some of the correspondence between herself and Zukofsky who died just a few years later in 1978.