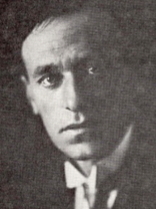 Louis Esson was a Scottish-born Australian poet and playwright.  His involvement, during the 1920s, with a theatre group called The Pioneer Players led to his being called "The Father of Australian Drama".   He also worked as a journalist, writing articles of literary criticism as well as a number of politically-themed pieces.
He was born Thomas Louis Buvelot Esson on the 10th August 1878 in Leith, a district of Edinburgh.  His father was a marine engineer who died when his son was just three years old.  The surviving family emigrated to Australia, settling in Melbourne where his mother already had siblings living there.  Thomas went to the local grammar school at Carlton and, in 1896, went on to study at the University of Melbourne.  He was enrolled on an arts course but left without obtaining a degree. His time there generated a keen interest in drama within him and he went to Europe  in 1905 with a man named Leon Brodzky.  They spent time in Paris and Dublin and a meeting with Irish dramatist J. M. Synge encouraged Esson to work towards the setting up of an Australian national theatre when he got back home.
Before this overseas trip though he had been developing his interest in writing and took up employment as a journalist, writing plays in his spare time.  He had a number of pieces of poetry and short articles on topical subjects published in the Bulletin.  Some were thought provoking, including his views on the threat posed by Japan to Australia's security.  He soon grew disenchanted with the Bulletin's editorial style and, having joined the Victorian Socialist Party as one of its founder members in 1906, he began writing articles for the Socialist magazine.
Besides his politically-themed writing Esson was busy composing plays and a four-act comedy called The Time is Not Yet Ripe was staged in 1912 before an extremely receptive and appreciative Melbourne audience.  Other plays followed and he also produced two short collections of poetry:  Bells and Bees and Red Gums and Other Verses.  All of this established his name as an up and coming writer.  His personal life was less stable though, including a short-lived marriage in 1906 which ended in divorce five years later, the union producing one child.  Esson married again in 1913 and, once again, a single child was produced.
He tried to join the Army at the outbreak of war in 1914 but was rejected on medical grounds.  His literary activities continued but were a source of very little income for the author.  Many of his poems were lyrical tales of sheep shearers and the lives of simple bush families, struggling to eke out a living in a hostile environment.  In contrast though was Brogan's Lane which described an infamous street in Melbourne inhabited by the low-life, criminal classes of the city.  This powerful poem is reproduced here: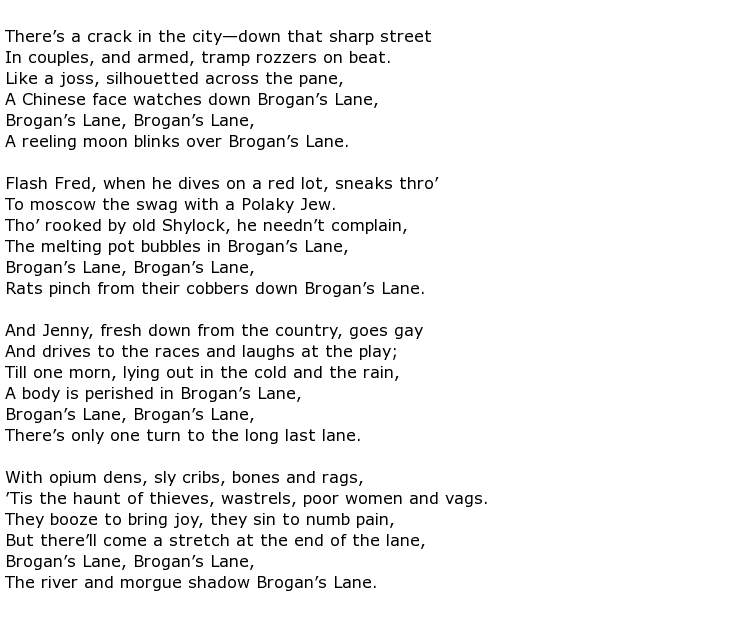 The Esson family went to live in New York in 1916 but did not find the city to their liking.  They tried London, and were happier there, especially as he was able to rekindle literary acquaintances from his previous visit.  By 1921 though they were back in Melbourne having been encouraged by W B Yeats to pursue the dream of a national theatre in Australia.
During the 1920s Esson helped to establish the Pioneer Players and the seeds of Australian drama were sown with this venture.  His play writing days were coming to an end though, somewhat discouraged by some lukewarm reviews of his efforts.  He moved his family once more, this time to Sydney, and they remained there for the rest of his life.
Louis Esson died in Sydney on the 27th November 1943 at the age of 65.