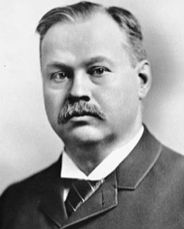 Louis Fréchette, CMG, was a Canadian writer of poetry, short stories and plays who was also a journalist for a short time.  He had strong political views and served time as a Member of Parliament.
He was born Louis-Honoré Fréchette on the 16th November 1839 in Lévis, a town in the eastern province of Lower Canada.  His education was provided at a number of establishments including the Séminaire de Québec, where he studied the classics.  Then he went to the Collège de Sainte-Anne-de-la-Pocatière and then the Séminaire de Nicolet.  He had early ambitions to become a lawyer and he studied the law at the  Université Laval in Québec, being admitted to the bar in 1864.  Soon after he set up a small law practice in his home town of Lévis.
Writing was probably his overriding aim though and he was responsible for the founding of two local newspapers:



He held strong Liberal views which did not always sit well with his role as a journalist and he moved to Chicago in 1866, remaining there for five years.  He considered himself to be in exile from his true home and, to this end, wrote the poignant



He also penned a number of plays but, unfortunately, these were lost during the devastating fire of October 1871 which ravaged the city and claimed over three hundred lives.
Fréchette went back home three years later and entered politics, become a Member of Parliament.  He held his seat in the Commons for four years, representing Lévis and the Liberal party.  A considerable windfall came his way in 1878 on the death of an aunt and this perhaps prompted him to give up politics and to concentrate on full-time writing while living in Montreal.  His efforts were soon rewarded, being his province's first recipient of the



in 1880.  This was awarded for his 1879 collections of poems called



Other honours and awards came his way, the first being an honorary LLD that was awarded by Queen's College, Kingston.  In 1897 his considerable contribution to Canadian literature earned him the CMG – Companion of the Order of St Michael and St George.  He often wrote in a patriotic style and was a fiercely proud son of Québec first, and a French Canadian second.  The following poem illustrates his passion for his home province very well and is simply called Québec: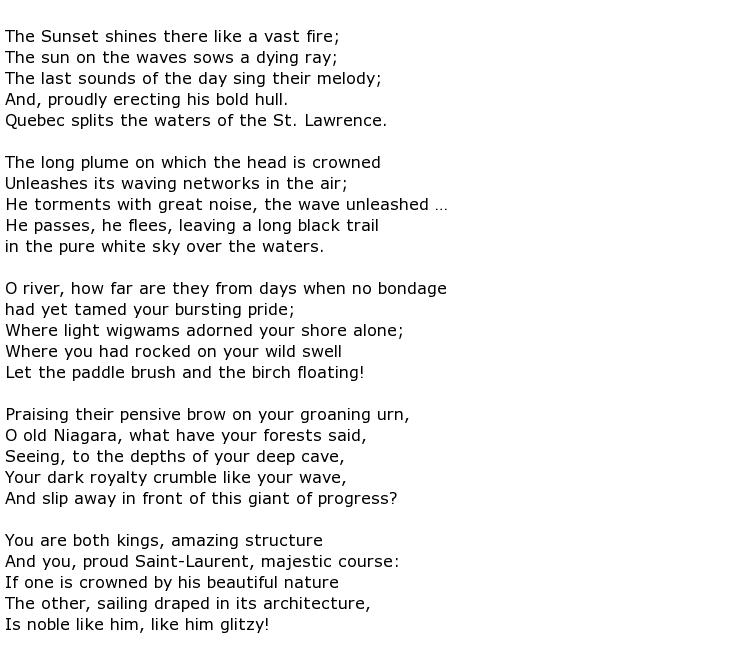 Fréchette enjoyed studying the history of the Canadian people and, in 1887, wrote a cycle of poems under the title



which chronicled the development of the country alongside it's multi-national settlers.  His Selected Poems came out in 1908.  A collection of short stories was published in 1892 called



At least three plays were attributed to him: 



Louis Fréchette died in Montreal on the 31st May 1908.  He was 68 years old.  His unpublished personal reminiscences were collected in 1961 and published with the title