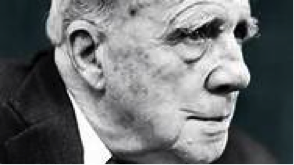 Louis Untermeyer was an American poet, anthologist and literary critic who, in 1961, was granted the honour of being the nation's 14th Poet Laureate in recognition of his lifetime's work. He held this post for two years despite receiving unfavourable government attention at various times during his life due to his occasional Marxist proclamations and being a contributor to such left-wing publications as "The Masses" and "The Liberator". He campaigned against the United States' involvement in the First World War. His intelligent and ready wit made him one of the first panellists on a television quiz show called "What's My Line" but, in 1951, he had to leave the show due to a campaign of protest against him by right-wing and military veteran associations. This was, of course, a time of fervent anti-communist feelings in the United States and it was enough to simply belong to "suspect" organisations to be on the receiving end of persecution.
Louis Untermeyer was born in New York City in October 1885, the son of a prominent city jeweller. His mother sparked his interest in literature through her constant reading to him of some pretty grown up poetry. She favoured epic poems such as  Ride and Hiawatha by Paul Revere. As he grew older he immersed himself in classics such as Idylls of the King by Alfred Lord Tennyson  and Dante's Inferno. He dropped out of school early and began to write his own poetry while working in his father's jewellery business until 1923. At this point he decided that he needed to concentrate full time on writing and he was inspired by literary friends such as Arthur Miller, Ezra Pound and Robert Frost.
Throughout his life he was involved in the publication of over a hundred books. Some of these were his original work, some he assisted in editing. Others though were anthologies such as Bygones which was a collection of anecdotes and reflections on his married life which covered four marriages. One of these though (his second) lasted only one year. His fourth wife, Bryna Ivens, assisted him with the editing of a dozen books specifically for children.
It can be said that the work of Louis Untermeyer spanned the age categories – he was just as likely to write for children as he was for grown-ups. His first publication was called First Love (1911), a collection of sentimental, undemanding poems. In marked contrast though, in 1914, he published Challenge which had strong social protest as a running theme throughout. In 1917 his collection These Times included the following gentle observation of the quiet life to be found on a typical New York city street. He called it A Side Street: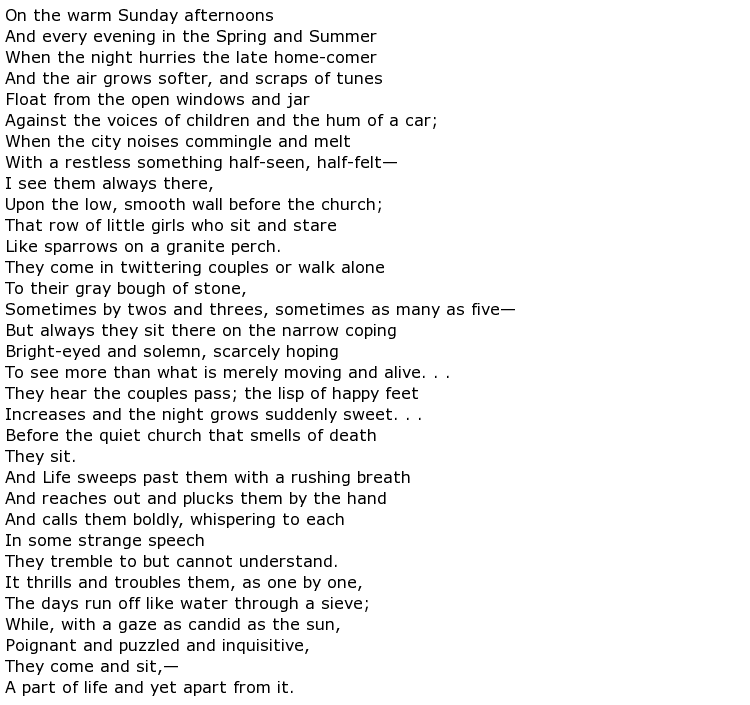 Generally speaking it could be said that Untermeyer was drawn to protest movements and non-conformity right up to end of his life. In a 1970s article for one issue of the New York times, he said that he found himself:

He spent a good deal of his life in his native New York city but moved to rural Connecticut as he got older, finding his home town both "unlovable and unliveable". His new surroundings were more agreeable, and he found an appreciation in wild flowers and birds. He continued to write whenever he felt the need.
He travelled extensively giving lectures on literary subjects across the United States and abroad, but restricted this in later life. He enjoyed trips to Salzburg, Milan and London whenever a musical festival took his fancy.
Louis Untermeyer died on the 18th December, 1977 aged 92.