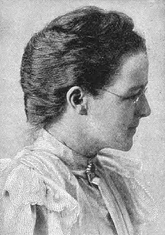 Louise Imogen Guiney was an American writer of poetry and essays.  As well as working in the Boston Public library as a cataloguer for a time she also edited the works of mostly Catholic writers of the English and Irish literary tradition.
She was born on the 17th January 1861 in Roxbury, Massachusetts of Irish Catholic immigrant parents.  They sent her to the Elmhurst convent school in Providence, Rhode Island and she graduated from there in 1879.  Her father had died a couple of years earlier and she lived with her mother and aunt during the next twenty years or so in Boston and Auburndale, Massachusetts.  She soon exhibited a talent for writing and threw herself enthusiastically into the Boston literary scene, joining a number of writers' circles and social organisations.  She felt duty bound to provide financial aid to her family and was able to do so from money she earned from contributions to various magazines and newspapers throughout New England.
Encouraged by her contemporaries she had two collections of poetry published in the early days: 


came out in 1884 and 


three years later.  In between she had a collection of essays published under the title 



During the last decade of the 19th century she had a number of other books published, establishing her name as one of the leading American writers of her age.  Despite her apparent literary success though she never made much money from her endeavours and had to supplement her income with alternative employment such as working for the Auburndale postal service.
She lived in England between 1889 and 1891, meeting famous writers such as William Butler Yeats amongst others and she cited Alfred, Lord Tennyson and William Hazlitt as major influences on her own writing style.  In 1901, at the age of 40, she left America, never to return, setting up home in Oxford with the intention of developing her writing while under English literary influences.  Unfortunately her health deteriorated and she found it difficult to concentrate on the creation of original verse or prose.  Instead she concentrated on existing works by English Catholic writers, reviewing them or editing as appropriate.  She embarked on an ambitious anthology project which she was unable to finish, covering Catholic poets from Sir Thomas More through to Alexander Pope.  This collaboration, with Geoffrey Bliss, was eventually published in 1939 with the title Recusant Poets.
She often wrote poetry in a lyrical, Old-English style, borrowing themes from classical legends of gallantry and strong morality that could be found in the English literature of the early 17th century.  She also referred to her family roots for some of her poetry, a good example being a piece called Irish Peasant Song and this is reproduced below: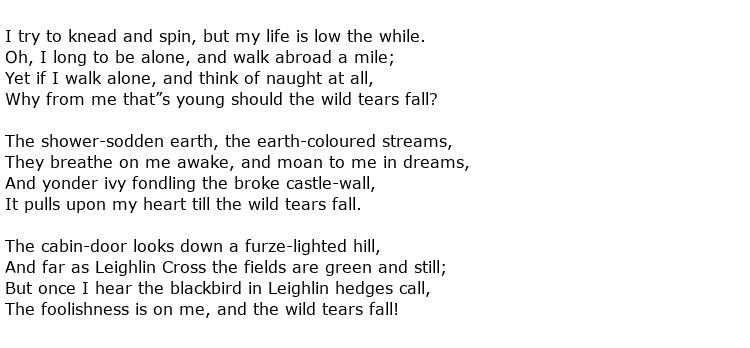 Her last collection of poetry,


was published in 1909 and included some old material as well as some new.
Louise Imogen Guiney died of arteriosclerosis on the 2nd November 1920 while living in the Cotswolds town of Chipping Campden, Gloucestershire.  She was 59 years old.  She left a number of unfinished pieces of work behind.