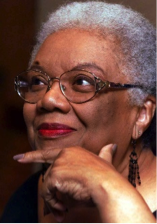 Lucille Clifton was born Thelma Lucille Sayles into a working class New York family in June 1936.  Her father was a steel worker and her mother bore six children.  Graduating from High School Lucille won a scholarship to Howard University and then studied at the State University of New York at Fredonia, quite close to her home in Buffalo.  Aged 22 she married a professor of philosophy – Fred James Clifton.  Fred was also a sculptor who specialised in carving African faces and the couple were introduced by the writer Ishmael Reed who was soon to be an influencing figure in Lucille's poetry career.
It was Reed who recognised her talent for capturing the essence of her African American heritage and, in 1966, he offered some of her poems to the writer Langston Hughes who was happy to include some of them in his anthology The Poetry Of The Negro.  Lucille published her own first collection called Good Times three years later.  Her fame grew rapidly following recognition in the New York Times who listed this book as one of the year's top ten publications.
She spent time as poet-in-residence at Coppin State College in Baltimore between 1971 and 1974 and was appointed Poet Laureate of the State of Maryland in 1979.  She held this post for six years. Unfortunately, during this time, her husband Fred died of cancer.  All this time though she was a prolific writer of both poetry and prose leaning heavily on her family's African roots.  As she was growing up her mother instilled in her the pride she should feel regarding her origins.  She said to her daughter:

Many of her writing themes were, as you would imagine, of a very serious nature but there are examples of her light, self-mocking touch in her work as well.  She knew her own body and gloried in it most of her life.  Here is an amusing little poem called Homage to my Hips which illustrates these feelings: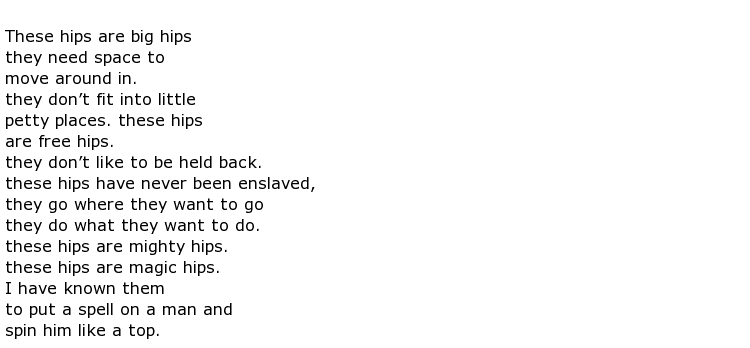 A curious feature of the girls in her family was that they were all born with an extra finger on each hand and Lucille's were surgically removed when very young.  She called them her "ghost fingers" and used this theme in a number of pieces that she wrote.  She wrote children's books such as Some of the Days of Everett Anderson (1970) about a black boy who was aware of the social problems of black people settling in America and this character appeared in other books that she wrote. Her poetry was mostly on the theme of living as an African-American, a good example being My Black Me: A Beginning Book of Black Poetry.
Not surprisingly she won a number of awards for her writing.  A notable one was the  Ruth Lilly Poetry Prize, awarded in 2007.  This came with $100,000 in prize money and was to honour a living American poet whose:

Sometime before that she was, remarkably, the first author that had ever had TWO books of poetry chosen as finalists for the Pulitzer prize in the same year (1988)
Lucille Clifton died in 2010, aged 74, of a bacterial infection.  Her work continues to be recognised and she has been awarded the Robert Frost Medal for lifetime achievement posthumously from the Poetry Society of America.