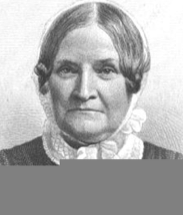 Lydia Maria Francis Child was a 19th century poet, novelist and school teacher.  She was, throughout her lifetime, enthusiastically involved with a number of campaigns of a political and social justice nature.  Examples of these were Native American rights, women's rights and the abolition of slavery and she was also against American expansionism of its territorial and political borders.  She was never afraid to court controversy with her written work, often using themes that were bound to push the boundaries of what was acceptable at a time of white supremacy in a male dominated society.
She was born Lydia Maria Francis on the 11th February 1802 in Medford, Massachusetts.  Her early education consisted of studies at a local dame school and then at a seminary for women.  When her mother died she moved to Maine to live with an older sister.  She furthered her education there, training to be a teacher and receiving private tuition from her Unitarian minister brother who introduced her to classical literature from the likes of Milton and Homer.
Although she had not previously considered the prospect of becoming a writer it was when reading an article on the subject published in the North American Review that the seed was sown.  She set out immediately to write a novel called Hobomok, A Tale of Early Times and, incredibly, finished it within six weeks.  It was the story of a white immigrant woman who married a Native American and then struggled to bring up her son in white society after her husband's death.  It was published in 1824 using the pseudonym "An American".
That same year she had a spell of teaching in Medford before setting up her own private school in Watertown, Massachusetts.  Two years later she saw a need for a magazine aimed exclusively at children and founded the Juvenile Miscellany.  She kept this running for eight years during which time she had met and married social justice campaigner and journalist David Lee Child.  They set up home in Boston in 1828.
Child was encouraged by the success of her first novel, going on to write a great deal of poetry and other novels.  Perhaps her most famous poem was Over the River and Through a Wood which contains gentle reminiscences of visits to her grandparent's house which was near the Mystic River in Medford.  The poem evokes happy memories of both Christmas and Thanksgiving.  It was eventually set to music and turned into a popular song.  Here is an extract from the piece: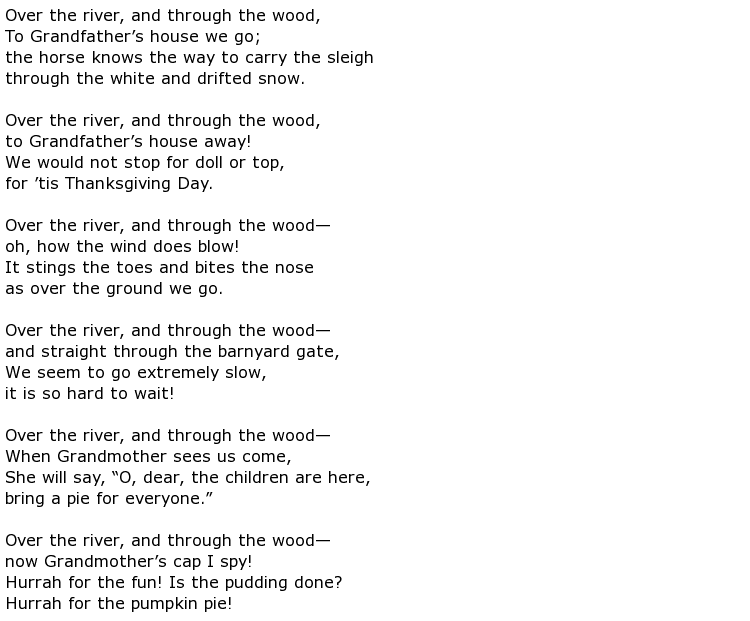 She also wrote instructional manuals aimed at women with children, including The Mothers Book.  Her 1829 manual titled The Frugal Housewife, Dedicated to those who are not ashamed of Economy was hugely successful, being reprinted and expanded 33 times over the next 25 years.  It was very much aimed at poorer families and was in direct contrast to similar manuals written by European authors whose observations were not relevant to struggling American families.
Child was deeply conscious of the difficulties experienced by many women and did not believe that their lot would ever be improved until slavery was abolished.  She and her husband campaigned vigorously on this subject, believing that the subjugation of slaves was similar to the situation of many women, both black and white.  She did her best to improve their lot, including writing anti-slavery stories to highlight their suffering.
Lydia Maria Francis Child died  on the 20th October 1880 in Wayland, Massachusetts.  She was 78 years old.