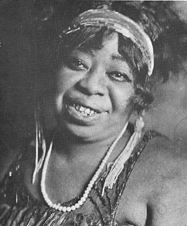 "Ma" Rainey was an African-American writer of poetry and songs who was a pioneer in the field of blues songwriting and singing, often being referred to as the "Mother of the Blues".   Her writing inspired others to follow her lead, with black American poets such as Sterling Brown and Langston Hughes forging their reputations in her wake.  She became so well known on the circuit that great performers such as Louis Armstrong wanted to sing with her and they recorded a number of songs together.
She was born Gertrude Pridgett, one of five children born to parents Thomas and Ella Pridgett.  Her place of birth may have been Columbus, Georgia but there is some dispute about her birth date.  It could have been on the 26th April 1886 but another record, the census of 1900, suggests that it was sometime in September 1882.  The place is also open to conjecture with some research suggesting that she was born in Russell County, Alabama.
She showed early promise as a writer and performer, appearing in talent shows as young as 12.  Following a period of time singing with the First African Baptist Church she joined the "black face minstrel" movement, a growing genre of performing artists that was becoming extremely popular during the early decades of 20th century America.  When she married Will Rainey in 1904 the two of them formed a band called the Alabama Fun Makers and they went on to perform with others, including the Rabbit's Foot Minstrels.  Her husband was popularly known as "Pa Rainey" so she soon became known as "Ma Rainey", soon coming into contact with big names such as Sidney Bechet, Joe Oliver and Louis Armstrong.
She became known for her powerful voice and a distinctive "moaning" style of singing as well as her strong, sometimes risqué lyrics.  There were stories going round about her bisexuality, fuelled by the words of one of her 1928 compositions, called Prove it On Me.  One evening during 1925 she had been arrested at her home where an alleged lesbian orgy was going on involving Rainey and girls from the chorus.  Here is an extract from that song:



During 1924 she was performing a lot with Armstrong and the pair of them released a number of recordings, including one of her most famous pieces called See See Rider.  This was a powerful lyric that has stood the test of time and has been performed by scores of famous singers since, including Elvis Presley.  The song was originally written as a prose-style poem and an extract is reproduced here:



Rainey's popularity waned during the 1930s when it was considered that her style of blues singing was much less fashionable and she retired from touring in 1935.  She had been much admired throughout the southern states with her incisive telling of stories of ordinary black rural people and their lives during the early part of the 20th century.  This was a time of reconstruction in the country and her tales of family heartache, promiscuity, heavy drinking and the hard life of the prison road gangs were put down in a powerful, lyrical style that lent itself easily to being turned into blues songs.
Rainey had a great stage presence and, dressed in fine clothes and sparkling jewels, she would keep her audiences enthralled using the power of her lyrics and a fine musical delivery.  Her popularity only declined when the vaudeville style of theatre more or less went out of fashion.  She retired to Georgia in 1935 and lived a quieter life, managing three theatres in Columbus.
Ma Rainey suffered a heart attack in her mid-fifties and died on the 22nd December 1939.