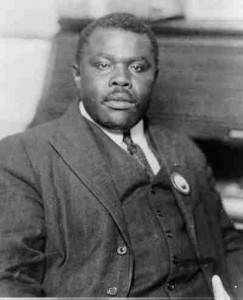 Marcus Garvey was an accomplished speaker, poet and entrepreneur who was born in Jamaica in 1887. He was the last born of eleven children and from a young age became acquainted with the poor employment conditions that the working class of Jamaica had to endure, particularly when he moved to Kingston at 14 years of age.
Garvey's first experience of racism was whilst he was at school when he was shunned by the white children. From early on, because his father owned a library, he was interested in reading and left school with a good education. By 1907 he was already taking part in strike action in Kingston and had created his own newspaper called The Watchman.
In 1912 Garvey moved to Costa Rica for some months where he worked editing a local newspaper before returning to Jamaica for brief period and then heading to London, England. He went to Birbeck College to study philosophy and law and also honed his oratorical skills by regularly giving speeches at Speaker's Corner in the middle of the city.

Influenced by the work of Islamic activist Dusé Ali, Garvey returned to Jamaica and helped to form the Universal Negro Improvement Association. It is no wonder then that his poetry such as A Black Man's Prayer and Africa for the Africans reflects his struggles and hopes for black people not only in his native Jamaica but internationally too. Support for the UNIA was fundamental to Garvey becoming one of the most influential movement leaders in the 20th Century, attracting over 50,000 people to his first rally.
In 1916, he went to New York and from there undertook a tour of 38 states and formed the first satellite group of the UNIA outside the West Indies. He often railed against America's boast that it was the biggest democracy when it denied so many rights to its black population. The next few years saw Garvey arrested briefly for libel and an attempt made on his life, but by 1920 the UNIA had over 4 million subscribers.
With his business interests growing and his political power flourishing, Garvey came to the attention of J Edgar Hoover and the FBI. In 1923 Garvey was sentenced to 5 years in prison after being arrested for mail fraud and began serving his sentence at Atlanta Penitentiary. There he started writing his famous letters to the Negro world. On his release in 1927, he was deported from the US and returned to Jamaica where a large crowd welcomed him.
There he continued his entrepreneurial activities and once again began fighting for the cause of black people across the world, including formation of the People's Political Party that sought to address the problems of the rights of workers in the West Indies. In 1935, he abandoned Jamaica once again and moved to London where he wrote Ras Nasibu Of Ogaden.

After suffering two strokes at the age of 52, Garvey died suddenly in London in 1940. Because of World War II had begun his body was interred at a church in London and was not returned to Jamaica until almost 20 years later.