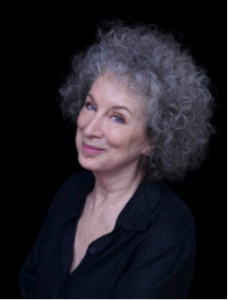 Margaret Atwood is a poet, novelist, literary critic, essayist and environmental activist. The daughter of Carl Edmund, a forest entomologist and Margaret Dorothy, a nutritionist and dietician, she was born on the 18th of November, 1939 in Ottawa, Ontario, Canada. The family moved to Toronto when she was seven years old.  Her childhood was divided between English-speaking Ottawa and French-speaking Quebec. This peripatetic early existence would come to influence her thinking in later years when overseeing translation of her novels into other languages, conscious as she was of striking the balance between readability and loyalty to the story, or in other words the ability of people in different countries to understand the meaning of her words and phrases. She received her undergraduate degree from Victoria College at the University of Toronto and her Master's degree was awarded in 1962 from Radcliffe College, Massachusetts
Her first publication was a book of poetry, 'The Circle Game' in 1964 but she didn't begin writing full-time until 1972.  One of her most famous poems is 'In The Secular Night':

As the author of more than 35 volumes of poetry, children's literature, fiction and non-fiction works her books have been published in more than 40 languages.  Throughout her literary career she has been given numerous awards and honorary degrees and has been shortlisted for the prestigious Booker Prize several times, winning it once for her novel 'The Blind Assassin'.  She is well-known for writing science fiction – which she prefers to call speculative fiction – and dystopian fiction, such as 'The Handmaid's Tale', set in the fictional republic of Glead, a place where women are not allowed to read.
Many of her novels made strong points about the treatment and oppression of women, often using comic references to Greek mythology.  Her first novel, 'The Edible Woman', published in 1969 whilst she was still teaching English, showcased her feminist beliefs even before the key years of the feminist revolution.  It tells the story of Marian, a woman who feels unfulfilled and restricted by society's expectations of her as a fiancée and wife.  It also contains references to vegetarianism as when Marian, watching her husband Peter eating a steak, visualises a cow displayed as all the cuts of meat which make up that poor, deceased creature and she gradually stops eating meat.  Marian thinks of it as:


  
She has repeatedly made observations about our relationships with animals, particularly in relation to our consumption of them, in her novels.
Influenced by her upbringing with father Carl and his work in the forests of Ottawa Margaret  developed an abiding concern for the environment and the well-being of the planet and is a keen advocate of recycling and re-using materials, in particular 'Ancient Forest-friendly' paper and resources and of using 100% 'green' energy.  She and Graeme Gibson, who is her partner are members of the Green Party of Canada and are strong supporters of its leader Elizabeth May.  They also support other causes, and jointly hold the post of Honorary Presidents of Birdlife International's organisation, the Rare Bird Society.
In 2004 she created the LongPen.  This device, which made its debut in 2006, enables a person to remotely write, in ink, anywhere in the world via the internet.  Margaret has fans on all continents and this invention allows her to meet and sign books for her admirers from her own home.  She has lived all over the world but now lives with her partner in Toronto.