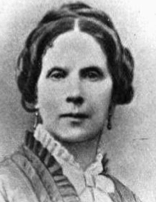 Margaret Junkin Preston was a prolific 19th century US poet and novelist.
She was born Margaret Junkin on the 19th May 1820 in Milton, Pennsylvania, the daughter of a Presbyterian minister.  She was privately educated and, by the age of 12, was proficient in Ancient Greek and Latin.  She said later in life that she missed the companionship that might have been gained from going to schools but, despite this, she was an able student.  During her twenties the family moved to Lexington, Virginia and it was here that she eventually met and married her future husband.
She was 37 years old when she married Colonel John Thomas Lewis Preston, a union that produced two sons.  Colonel Preston was a Latin professor at the Virginia Military Institute who went on to serve in the Confederate Army during the American Civil War under the command of the famous "Stonewall" Jackson.  Like her husband, she was a great supporter of Confederacy and used her poetry to promote the southern cause at that time, being particularly sympathetic towards the wives and mothers of soldiers.  She became so popular that she was known, informally, as the Poet Laureate of the Confederacy. 



is probably her best known work on this subject.  It was a multi-part story, in verse, describing the lives of a southern family during the war years and was first published in 1865.
Preston published a number of books of both poetry and prose and, in addition, much of her work featured in publications such as Harper's Magazine and the Southern Literary Messenger.  Besides the epic family tale Beechenbrook her other collections of poetry included



It was, in some ways, remarkable that she wrote so much material because her eyesight had become seriously impaired by the time she was 21 years old and she would, eventually, become blind.
Here is an extract from her long narrative poem Beechenbrook which vividly portrays the suffering of soldiers who had to endure the bitter winter weather as well as the constant danger from enemy shelling and engagement: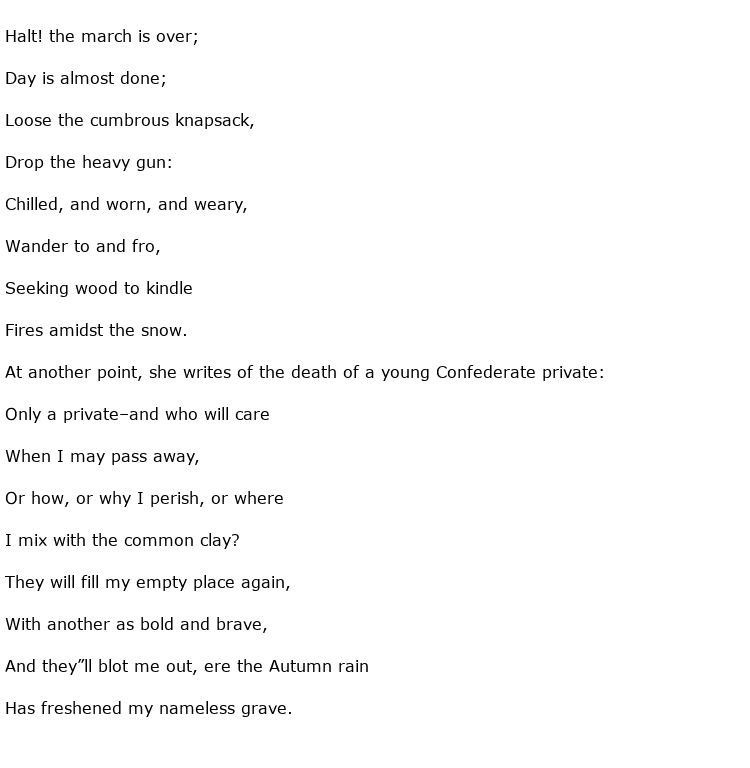 Preston visited Europe during the summer of 1884 and she wrote some of her most technically correct poetry at this time.  It was said that she had become a master of complex meters and rhyme schemes and she really made some of her work come to life by introducing characters who were real people, either living or long dead.  One example of this was Leonardo"s Angel which was a poem about the famous Leonardo da Vinci pleading with his dead father for artistic inspiration.
She took delight in mentoring new, young poets while keeping in regular contact, through letters, with contemporaries such as Alfred, Lord Tennyson, Christina Rossetti and Robert Browning.  She was widowed in 1890 and moved to Baltimore to live out her final years at the home of her son George.  She, perhaps, predicted her own death in a poem called Euthanasia which foresaw a peaceful end to her life and, sure enough, she died in her sleep.
Margaret Junkin Preston died on the 28th March 1897 at the age of 76.  While never occupying a place amongst the great American poets she is still fondly remembered as a writer who stood up for southern women at a time of great suffering during the Civil War.