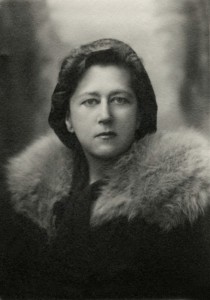 Born in 1891 in Krakow, poet Maria Pawlikowska-Jasnorzewska spoke multiple languages and spent her life traveling from place to place in Europe, rising to prominence as a writer during the interval between the two world wars. From the beginning, she was born into a very artistic and bohemian family environment, brought up surrounded by a variety of painters, poets, authors and Polish intellectual giants of the day.
When she was young Jasnorzewska was as much in love with art as she was poetry and would split her time between painting and writing. It wasn't until much later when she was embarking on her second marriage that she leaned more towards the literary side of things and began to make her name as both a dramatist and a poet.
Her marriage to Jan Pawlikowska was filled with passion and they would spend much of their time discussing poetry. About this time they were in Warsaw where the couple became involved with the literary group Skamander that had been founded in 1918. This relationship with Pawlikowska and other experimental writers of the time greatly influenced her philosophy and writing at the time.
During the interwar period Pawlikowska-Jasnorzewska would publish some twelve collections of poems but it was initially her dramatic works that caught the attention of critics and the public. Her first major success came in 1924 with the comedy Archibald the Chauffeur. It was the beginning of a progressive and prolific period where she would cover a variety of taboo subjects at the time including abortion and incest.

Her plays often caused controversy but despite this she was being favorably compared to the leading playwrights at the time including George Bernard Shaw. She was a fighter for women's rights and wrote on motherhood as a painful and often arduous obligation that ended in love more by chance than any grand design.
Perhaps her most famous dramatic work was A Woman of Wonder that was first performed in 1937. Set in a fictional state that is under totalitarian rule, it is often seen as a critical appraisal of the rising Nazi regime and follows a childless couple who have to cope with laws that force them to produce children.

Her poetry collections over the years earned her the title 'queen of lyrical poetry' and she often wrote on erotic themes that were considered risqué at the time. Pawlikowska-Jasnorzewska published her first collection in 1922. Blue Almonds included many poems that were influenced by her surrounding landscape.
Her second volume, Pink Magic, was accompanied by her own paintings and illustrations and was published in 1924. During this time and up until her death, she traveled widely across Europe including Egypt, Africa and Greece before finally moving to England and settling in Manchester in 1939.
It was here that she was diagnosed with cancer shortly before the end of the Second World War. Pawlikowska-Jasnorzewska spent a year being cared for by her third husband before she finally died at the age of 53 in 1945.