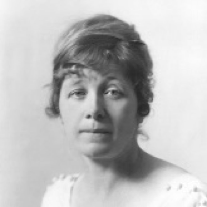 Marie Under was an Estonian poet considered by many literary historians to be one of her country's finest.  Her efforts during a long life earned her eight nominations for the Nobel prize in literature.
She was born on the 27th March 1883 in Tallinn, the capital of Estonia which was occupied by Russia at that time, and would be again.  Her father was a school teacher and he ensured that his daughter could have a decent education at a private German school for girls and she studied Russian, French and German there.  Following this her first job was selling books in a book shop but she used her spare time to write poetry, initially in German.  At the age of 19 she was married and the couple went to live in Moscow for a time.  Unfortunately, despite producing two children, it was not a happy union.  Under had an affair with an artist only two years after her marriage and this man, the artist Ants Laikmaa, convinced her that she should translate her work into Estonian so that he could get it published in local newspapers.
A meeting in 1913 with Artur Adson, another Estonian poet, proved fruitful for her as he became her secretary and saw to it that her work was published in book form.  Her first was a collection of love sonnets called Sonetid and it appeared in 1917.  Within eleven years she had divorced her husband and married Adson.  She was heavily involved in such organisations as the Siuru literary movement and, from 1922, she helped form the Estonian Writers' Union.  Under lived relatively happily for the next 20 years but this all changed in 1944 when the Russians reoccupied her homeland and she, and her family, were forced into exile in Sweden.  Although the early months were spent in a refugee camp they were eventually granted leave to live in Mälarhöjden which is a suburb of Stockholm and she remained there for the rest of her life.
Under was often described as an introspective poet, and this is especially true of her work in collections such as



  Like many fellow Estonians she mourned the fact that her country seemed to be perpetually under the control of a foreign power and the despair that she felt came out in the poem Denunciation.  Here is the opening verse of this piece:



Not all of her work was of this nature though and, during the 1920s, she shocked the literary world to some degree with her erotically-themed poetry.  The poem reproduced below would be considered mild by 21st century readers but, at that time, it was quite daring.  Here is the poem Ecstasy: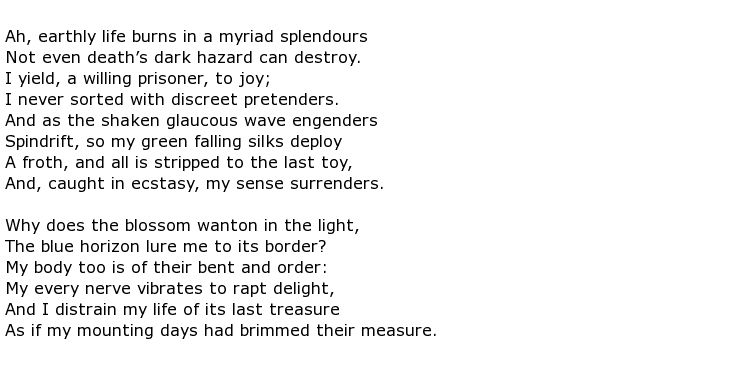 Under acknowledged, through her writing, that mankind in general led a miserable existence but people were constantly striving for happiness and a satisfactory life despite the often unfair social systems that they lived in.  She was certainly well read having mastered a number of European languages to the degree that she was responsible for the translation of work previously written in at least sixteen other languages into Estonian.
Her final years in Sweden were relatively busy, including working as an archivist for a theatre museum and keeping up literary memberships of organisations like The Swedish Writers League and Estonian Émigré.  Towards the end she suffered badly with arthritis and was bedridden in a Stockholm hospital.
Marie Under died on the 25th September 1980 at the grand old age of 96.