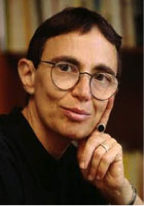 Marilyn Hacker is an American poet, literary critic and academic who was until fairly recently a Professor of English at the City College of New York, but is now retired. An acknowledged master of the "French forms" in poetry she has also translated a number of French works into English.
She was born on the born 27th November 1942 in the Bronx district of New York City, the daughter of Jewish immigrants. She was well educated, firstly at the Bronx High School of Science. It was here that she met and fell in love with an African-American by the name of Samuel R Delany who later became a writer himself. They would go on to get married in 1961, but were only allowed to do so by moving to Detroit as Michigan was one of only two states where mixed race marriages were permitted. Hacker went back into education and achieved a BA degree in Romance languages in 1964 from New York University.
The couple settled down to some kind of domestic bliss in the East Village, Manhattan which was rapidly becoming a mecca for people of varying nationalities and ethnicity as well as a centre for the upcoming "beatnik" generation.   Their daughter was born in 1974 but the marriage was dissolved six years later. Since then Marilyn has lived a lesbian lifestyle and her husband reverted to the gay lifestyle that he always believed that he was born to, but both remained friends.
Hacker worked in London during the 1970s, continuing the editorial work that she had started at Cornell University with a publication called Epoch. She was writing her own poetry at the same time but was concentrating on the work of others. She worked on the staff of London arts and literature publications such as The London Magazine and Ambit. She finally achieved recognition of her own with the publication of three of her poems in The New American Review and then, in 1974, she had a book published called Presentation Piece. This was very well received by readers and critics alike and won the National Book Award for Poetry, a prize presented annually.
Hacker has won many other prizes for her work including the poignant poetry collection Winter Numbers which was dedicated to such emotive topics as breast cancer and HIV/AIDS. In 2004 the American Academy of Arts and Letters granted her an Award in Literature. To date she has had eleven collections of poetry published. Most of her poems exhibit a rigid style, where she adopts strict poetic forms as evidenced in the contents of a collection called Love, Death, and the Changing of the Seasons. There is tenderness and melancholy in abundance but then you find angry, uncompromising pieces like [Didn"t Sappho say her guts clutched up like this?] which is an anguished cry about her gender as well as her sexuality. The poem is reproduced here: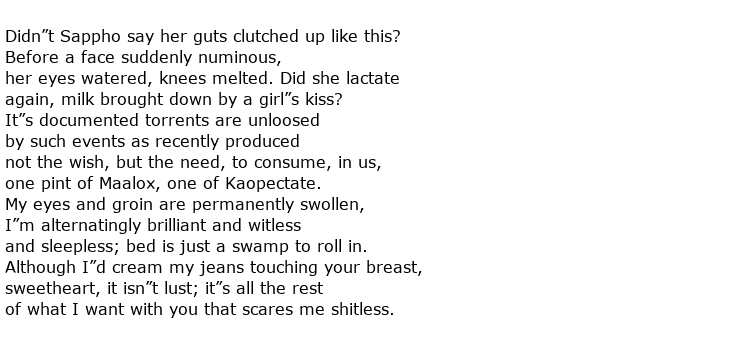 Marilyn Hacker has never forgotten her origins and has been a supporter and sympathiser all of her life for ethnic and social minorities. Wherever she could she has always been willing to put forward the views of those who feel marginalised, especially in American city communities. An example of this was seen when she collaborated in 2014 with Deema Shehabi, a Palestinian-American poet, on a book called Diaspo/renga: a collaboration in alternating renga. The book explores the trials and tribulations often suffered by those living in exile.