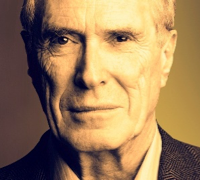 Mark Strand was a Canadian-born, multi-award winning American poet who also published essays and works of translation.  His greatest honour was his appointment as Poet Laureate Consultant in Poetry to the Library of Congress in 1990.  He also spent many years teaching at universities all over the United States as well as in Brazil, both on the academic staffs and in visiting professor roles.
He was born on the 11th April 1934 in the Prince Edward Island town of Summerside.  His family were of the secular Jewish faith and he was fortunate to receive a good education which began at the Oakwood Friends School in Poughkeepsie, New York.  He went on to gain a Bachelors' degree from Antioch College, Ohio and then studied art at Yale, earning a Bachelor of Fine Arts degree there in 1959.  He earned a US-Italy Fulbright Commission scholarship which enabled him to travel to Florence to study 19th-century Italian poetry.  Two years later he returned to the United States in 1961 to study literature at the University of Iowa.  In 1965 he was off on his travels once more, this time to Brazil where he completed a year as a Fulbright Lecturer.
Strand became known as a "narrative" poet, not caring too much that his verse did not rhyme or contain any recognisable meter.  He included memories of his childhood growing up in Canada in many of his poems, evoking the natural splendour that he was fortunate enough to be surrounded by.  Other pieces of work were described as surreal in content, probably due to influences such as René Magritte and Max Ernst.  The overriding tone of his work though was the use of strong, plain language and, in 1971, he explained it thus:



In his poem simply called The View he describes how it feels to sit, perhaps on a hotel terrace, with a glass of red wine, looking out at the vista and watching the sky change as the weather turns from one state to another.   This simple activity is both relaxing and satisfying and is something repeated day by day, the world over.  The poet suggests that this is an easy way to happiness, and that it is possible for that mood to last for some time.  Here is the poem: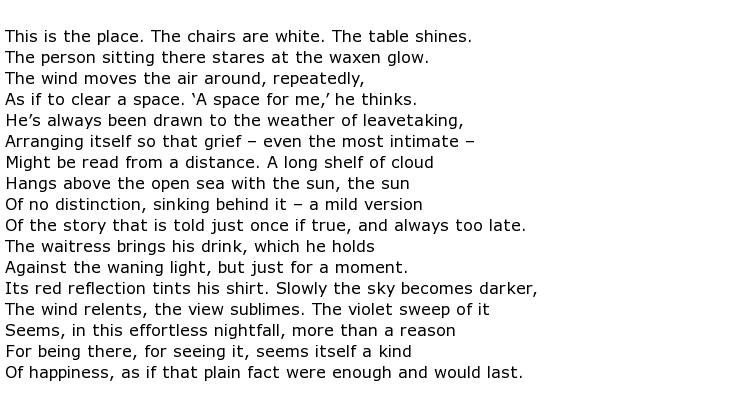 Strand published over twenty books of poetry, beginning in 1964 with Sleeping with One Eye Open, and ending with his Collected Poems, published in 2014, the year of his death.  Additionally he produced books of prose and a number of translations of Italian works of literature into English.  He also edited seven collections of poetry from writers of North, Central and South American origin.  His work earned him election to The American Academy of Arts and Letters in 1981 and he served as national Poet Laureate for two years 1990-91.  Amongst many other honours and awards he won the Pulitzer Prize for Poetry in 1999 for a piece of work called Blizzard of One.
Mark Strand's  long career as a writer and an academic came to a close in 2014 when he contracted a rare form of cancer called liposarcoma.  He died in Brooklyn, New York on the 29th November 2014.  He was 80 years old.