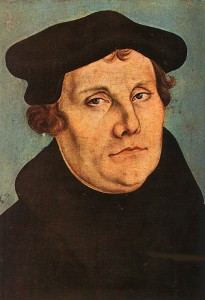 Born in 1483 in Eisleben, Martin Luther is perhaps one of the most influential religious figures of the last millennium. His role in the Protestant Reformation and his excommunication by the Catholic Church was one of the first major challenges to the power of the Pope across Europe. Baptized as a Catholic, he spent most of his childhood growing up in Mansfeld where his father owned a lease on a copper mine.
Luther studied at the University of Efurt and graduated in 1505. According to his father's wishes, he started to study law but dropped out a short time later. He was more attracted to the spiritual aspects of study such as philosophy and theology, and he was taught at an early age to question the teachings of the classical greats. As time went on, the scriptures became ever more important and he believed that things could only be learned through what he called divine revelations.
Accordingly, he set out to become a monk and joined the Franciscan friary in Efurt as he sought to find his meaning and place in life. He would fast for long periods and often described his journey as a time of terrible despair. Ordained as a priest he took up a position teaching theology at the University of Wittenberg.
Around 1517 he wrote his famous Ninety-Five Theses in response for the Catholic request for financial indulgences, objecting to the practice particularly that it absolved people from sin with a simple payment to the Church. Luther believed that only God could forgive and that redemption could not be bought. Copies of the work spread like wildfire through Europe and created one of the big controversies of the time.
As the years progressed, Luther gave lectures over Europe and wrote a number of other treaties as well as a large number of popular hymns, coming to believe that the Catholic Church was essentially corrupt and that it had strayed from the path that God had intended. In 1525 he published On the Bondage of the Will and much of his own doctrine would become a foundation for the Reformation to follow.
Luther was told to remove certain sentences from his Ninety-Five Theses and, when he refused and set fire to the papal bull, he was excommunicated b the Catholic Church. He appeared before The Diet of Worms, the secular governing body that would decide on what action to take with this renegade priest. His arrest was ordered and anyone helping him was to be punished severely.

Luther had a powerful ally though in Frederick III and was given shelter at Wartburg Castle, where he continued to write and condemn the actions that had been taken against him and the state of the Catholic Church. He attacked such mainstays of the Catholic religion as mass and confession, something which caused a range of religious rebellions in the region. Out of the resulting turmoil came Luther's Reformation and it began to flourish with secular support.
From 1526, Luther was largely concerned with building his new church and, despite his abhorrence of Catholic doctrine, he had to avoid extremes of change to bring the people with him. He wrote works such as the German Mass and Large Catechism, as well as translating the New Testament into German to reach a wider, poorer audience. He was also a prolific composer of hymns and included From Heaven Above to Earth I Come and In the Bonds of Death He Lay in his substantial collection of works.

After 1531, Luther's health began to fail and he struggled with various ailments over the ensuing years. It caused him to become more vociferous in his attacks on the Church and also led his wife to accuse him of being too rude. Luther gave his last sermon in 1646 and died a few days later at the age of 62.