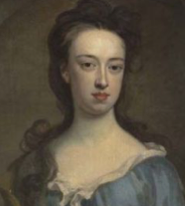 The Lady Mary Chudleigh was an English poet whose strong views on the emancipation of women were, perhaps, well ahead of their time.  She wrote a number of poems and essays on the relationships between men and women and maintained a strong feminist stance in much of her work.  Her poem To the Ladies is a clear message to those women who, usually by tradition, have to suffer the social and financial domination of their husbands.
She was born Mary Lee in August 1656 in the Devon town of Winslade. Her parents were both well-connected, her mother Mary Sydenham being part of a long-established family of Sydenhams from the county of Dorset.  They were able to ensure that daughter Mary would grow up in comfortable circumstances.  It was not common for girls to be well educated but she managed to teach herself much on the subjects of philosophy and theology and she was a keen reader of literature.
By the age of 18 she married Sir George Chudleigh, 3rd Baronet of Ashton, Devon.  It has been suggested that an overbearing husband may have influenced her feminist-themed writing but, on the other hand, he did not stand in the way of her writing career when he could well have done so.  They had six children.  Her social circle included such intellectuals as Lady Mary Wortley, Elizabeth Thomas and Mary Astell, all fellow writers.
Lady Mary's literary output was not substantial but her collections of poetry and essays were mostly written on feminist themes.  Some individual pieces have appeared in anthologies and her work retains its importance to this day.  It was argued in some quarters that her work was of a biographical nature, based on personal experiences rather than abstract, fanciful notions of how women might live if they chose to do so.  Her early work appeared to be typically Restoration in style – lyrical and satirical – while later pieces were of a much more philosophical nature.
A good example of her poetry was the above mentioned To the Ladies and this witty but forceful poem, encouraging her sisters not to fear their husbands "as a God", is reproduced here: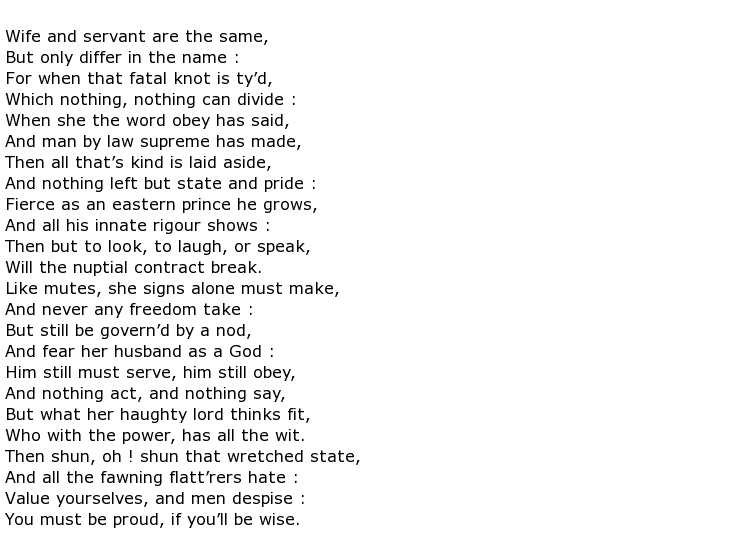 Her friend Mary Astell was a strong influence and both women belonged to the school of female writers who believed in education for women and some reform to the marriage traditions although, as history as showed, these worthy ambitions took a long time to come to fruition.  In her privileged social world she saw much vanity and shallowness and she strongly urged "virtue and stoic integrity" as a way of life for women who were usually suffering the effects of strongly misogynist marriages.  She hoped, through her writing, that she would encourage other women to take up the challenges that all of them were facing.
Her relatively small output of written work included The Ladies' Defence, published in 1701, and Poems on Several Occasions which was published in 1703 and dedicated to Queen Anne as a safety net from the social backlash that she clearly expected once her views became public.  In 1993 The Poems and Prose of Mary, Lady Chudleigh was published by the Oxford University Press.
Lady Mary Chudleigh died on the 15th December 1710 having suffered a severe bout of rheumatism.  She was 54 years old.