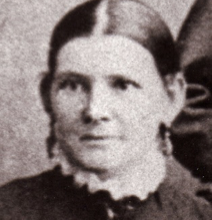 Mary Eliza Fullerton was an Australian poet, novelist and occasional writer of articles for newspapers.  She often wrote using the pseudonym "Alpenstock" but when it came to publishing collections of poetry she also called herself simply "E".  It is believed that she did this because she was conscious of the likely prejudicial reaction of the literary world to a woman author who did not enjoy the benefits of a university education.  During the late 19th and early 20th centuries she was politically active on feminist issues and was an enthusiastic supporter of the women's suffrage movement.
She was born on the 14th May 1868 in Glenmaggie, Victoria into very modest circumstances.  Her father was a simple man, a Presbyterian Scot who originated from Belfast, Northern Ireland.  Her mother, of English birth, taught her at home initially but she also attended a state school as well.  She was clearly a bright girl, interested in literature from a young age including the poetry of Byron and Shelley and Milton's Paradise Lost.  She also avidly read the Bible.  She remained with her parents, living on a farm, until a move to Melbourne sometime around the year 1890.  She seemed to have ambitions to become a writer at a time when it was uncommon for women in Australia to follow that path.  Although she mostly wrote behind the pen names mentioned above, she did publish three novels in the early 1920s using her full name.
Despite being a naturally shy young woman Fullerton was making a name for herself during the early part of the century as a public speaker on women's issues of the day, joining organisations such as the Women"s Organising Committee of the Political Labour Council of Victoria.  As the First World War broke out she wrote articles condemning the conscription of her country's young men, these appearing in such publications as the Victorian Socialist and Ross"s Monthly.
Her first collection of poetry was called Moods and melodies, consisting of 37 sonnets and 9 lyric poems.  This was published in 1908 but it took until 1921 for her next book to be seen, this being called The breaking furrow.  She followed this with  Bark house days which was a collection of reminiscences from her childhood.  Her father had built the wooden shack that they lived in out of bark.  Four more titles were published between 1923 and 1930 and then her last two books were published using the pseudonym "E" – Moles do so little with their privacy and The wonder and the apple.  It was only revealed after her death who the author was.
Her poetry sometimes revealed the harsh realities and dangers of life in the Australian bush.  A good example of this was a short poem called Crows about nature's way of providing heaven-sent sustenance for man and bird alike although, in this case, the man thought he had found life-giving water only to perish in the mud surrounding this oasis.  The poem is reproduced here: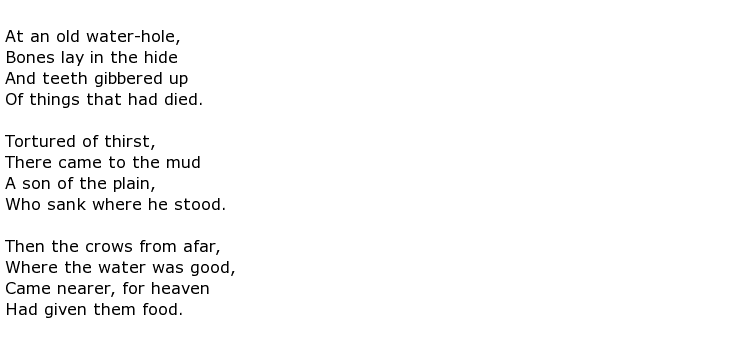 Fullerton visited England briefly in 1912 and was so taken with the place that she moved there in 1922, setting up home with a lady friend and patron.  She had a close relationship with publisher Miles Franklin who described her as "sensitive, fastidious, reticent, self-mastered".   She never married and critics gave her mixed reviews, with the general opinion that her novels were "of little lasting merit" but her poetry was better.  Her Bark house days would certainly stand up alongside other examples of superior Australian literature.
Mary Eliza Fullerton died at home in Maresfield, Sussex on the 23rd February 1946 at the age of 77.  Her health had not been good in later life and she suffered with asthma and heart trouble.