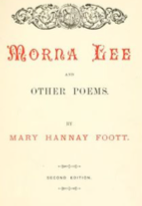 Mary Hannay Foott was a Scottish-born Australian poet, art teacher and newspaper columnist whose best remembered piece of work is the poem



She was born Mary Black on the 26th September 1846 in Glasgow, the daughter of a merchant who took his family to Australia when Mary was seven years old.  She went to school in Melbourne and also attended the city's National Gallery Art School.  She had ambitions to teach and became a qualified teacher of drawing from the age of 21.  While working as a member of staff at the Wagga Wagga school her interest in literature developed and she submitted a number of articles and poems to publications such as the



She wed Thomas Wade Foott in 1874, a man involved in the sheep industry as an inspector of stock.  They lived for a number of years on a Queensland station at Dundoo but eventually ran into financial difficulties and, within ten years, her husband was dead through exhaustion and possible over-exposure to the sun.  Mary got out of the sheep rearing business and moved on to Toowoomba and then Rocklea, in Brisbane, where she went back to teaching.  A job as the women's page editor on the Queenslander paper followed but she used the pen name "La Quenouille" for her work there.  She had been writing poetry all through the previous turbulent years and a collection was published in 1885 called



followed five years later which also included work from her previous collection as well as new material.
Her most famous work was based on the idea that the most fertile and profitable land to be found in the outback is literally where the pelicans build their nests, popularly assumed to be "at the end of the rainbow".  The poem is reproduced here: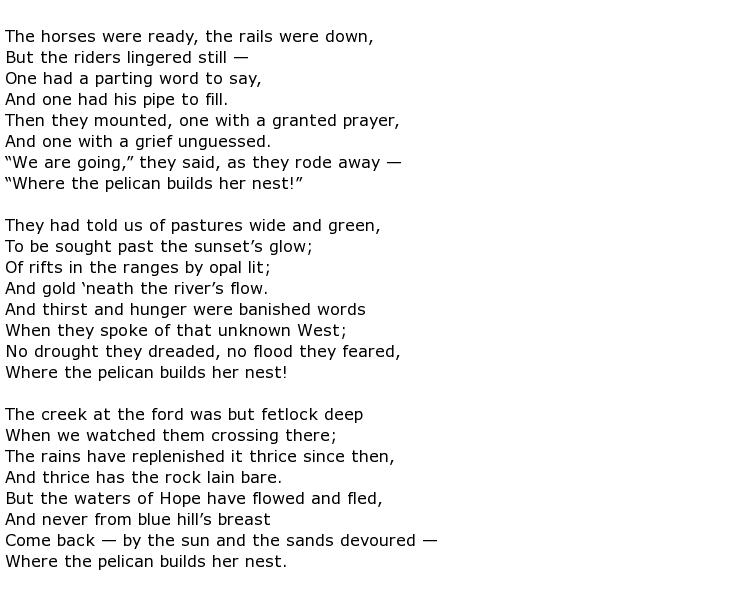 In truth Foott was a fairly minor poet in the grand scheme of things but it is significant that she was amongst the first female poets in Queensland.  The fact that the above poem appears in so many anthologies of bush poetry suggests that her work had many admirers.  Her many years living and working on a sheep station, a mostly harsh environment, will no doubt have influenced her writing.  She also wrote a single play in 1892 called Sweep which was a humorous piece aimed at children.
Her marriage produced two sons who served in the Australian Army during the First World War.  The youngest of them, Arthur, died during the infamous Passchendaele campaign in 1917 while the elder, Cecil, became a Brigadier-General and was mentioned in dispatches a number of times.
Mary Hannay Foott died on the 12th October 1918 in Bundaberg, Queensland, following a serious bout of pneumonia.  She was 72 years old.  She was remembered as a courageous woman who had lived a hard life mostly but came through it with her strength and vitality intact, spending much of her time writing about the experiences she had endured along the way.