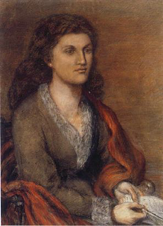 Mathilde Blind was a 19th century English poet, although her place of birth was actually Germany.  At a time when it was rare for women to become famous writers she overcame long-established male prejudices and emulated the likes of Katharine Tynan and Amy Levy who had similar success.  A movement growing ever popular at the time was called "New Woman" and Blind soon became a leading light in that. She also produced biographies, essays and one novel and was a literary critic.
She was born Mathilda Cohen on the 21st March 1841 in Mannheim, the daughter of a banker who died when she was eight years old.  Her mother was soon remarried  to a man named Karl Blind and she took his surname when the family moved to London in 1852.  She grew up into a forthright, independent-thinking young woman who undertook a solo walking tour of the Swiss Alps and documented her adventures in what appeared to be a work of fiction but which included the names of people that she actually met in Switzerland.
She tried to attend lectures at the University of Zurich but found her way barred at this male-dominated establishment. She was becoming interested in philosophy and had private lessons from a well-known scholar called Kuno Fischer and was also keeping the company of revolutionary thinking individuals who had ambitions to bring down establishment figures such as the German chancellor Otto von Bismarck.  Her own brother, Ferdinand, tried to assassinate him but was caught and committed suicide in prison.  Blind commemorated his memory in her first collection of poetry, called Poems which was published in 1867, although she used a male pseudonym to ensure that her voice would be heard.
By now heavily influenced by left wing politics, she met people like Karl Marx who were invited to her mother's house in London.  She soon took up the cause of women's suffrage and her poetry reflected her strong feelings at this time and by the early 1870s she was becoming well known in London literary society.  She found an outlet for some fairly controversial pieces of work in an Oxford journal called Dark Blue and this included daring poetry that was regarded as sexually subversive.  This was a fairly short-lived arrangement and she moved on to reviewing new poets and fiction writers for the Athenaeum magazine.
During the 1870s and 1880s her reputation as a poet grew.  She wrote passionately about social injustices such as the Scottish Highland Clearances, a process that she had observed on visits to that area.  She made her feelings known about this in the poem The Heather on Fire.  Not all of her work was socially or politically-motivated though and a good example of her ability to write lyrically and sympathetically about nature can be found in a piece called Spring in the Alps.  This was written after her earlier walking adventures and the poem is reproduced here: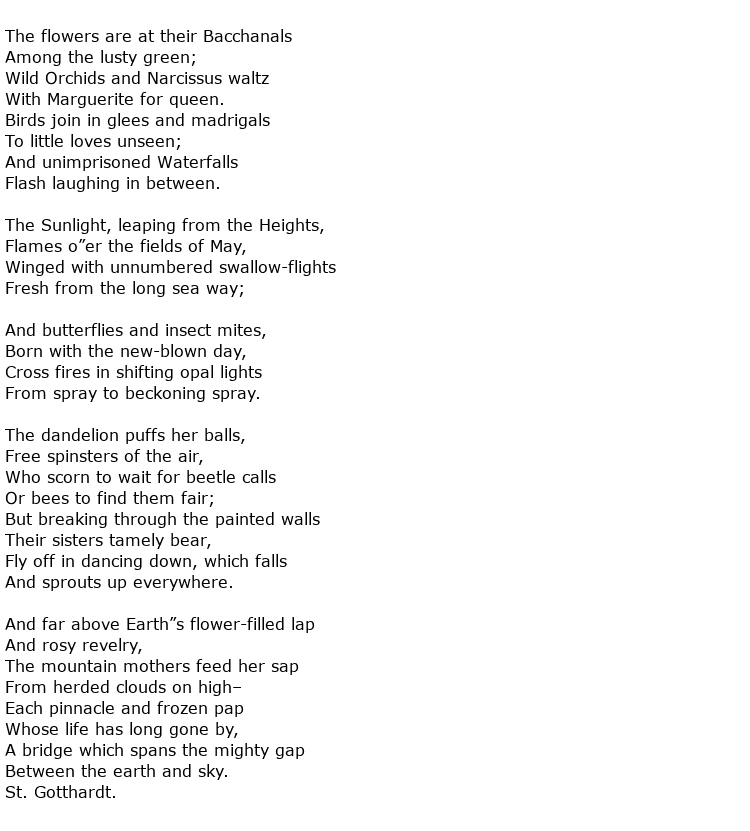 Amongst the much-lauded biographies that Blind wrote were an 1883 publication on the female novelist George Eliot and, three years later, a book about a French revolutionary member of the Girondin faction called Madame Roland.  She wrote one novel, a romantic story called Tarantella, but this was nowhere near as successful as her poetry.  Perhaps her most celebrated work of poetry was The Ascent of Man which was her response to Charles Darwin's theory of evolution, clearly told from the feminist point of view.
Mathilde Blind died on the 26th November 1896 in London at the age of 55.