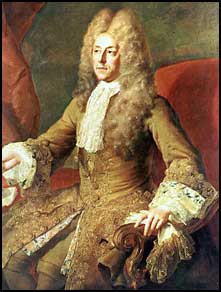 Born in Middlesex in 1664, Matthew Prior was a poet and experienced diplomat and is noted for the range of work that he produced from humorous poems to more ambitious epic works. Although he was largely successful as a poet, he often treated it as a pleasurable pastime rather than a true calling.
His father was a joiner and moved to London shortly after Prior's birth, later sending his son to Westminster School. When Prior's father died, he was given over to his uncle and received his first taste of patronage when Lord Dorset offered to pay for his continuing education at Westminster. Prior later took up a scholarship, against the wishes of his new patron, to attend St John's College.
Prior made friends with Charles Montague and would collaborate on satirical works such as City Mouse and Country Mouse. He left college with a degree in 1688 but it was the publication of this work that secured him financially as a satirist, the kind of poet who was much in demand at the time. Prior was sent to the serve in the embassy at the Hague and a few years later, because of his success, was appointed to the King's court.
Over the years, Prior proved himself as an able diplomat and helped King William as one of his secretaries on many occasions. He was also sent to France to accompany the ambassador there because of his proficiency in the language.

Whilst he was busier on the diplomatic front than as a poet, Prior used writing verse as a means for obtaining extra income. In Paris he wrote such works as The Secretary and another piece on the attempted murder of King William that proved very popular.
Once he returned from Paris, Prior enjoyed more success and was promoted to Under Secretary of State. He also, for a while in 1701, served as a member of parliament. Whilst things changed somewhat after the death of King William, which meant that he faded into the political wilderness for a few year, Prior came into favor with the Tories around 1710 and served sometimes as an ambassador and quite frequently as a spy.
The political landscape changed again when Queen Anne died and Prior was impeached by the Whig government that took over, spending two years under lock and key. Prior treated this restriction on his movements as he did everything else in his life and composed a number of poetic works whilst his freedom was curtailed. Publishing poems such as Alma: Or the Progress of the Mind earned him a good deal of money for the time and allowed him to live in comfort.
Retired from public life, Prior died in 1721 at the age of 57. Throughout his life he developed an ethos of hard work combined with a gregarious love of life and much of his attitude is reflected in his most humorous work Alma. He was buried in Westminster Abbey and a monument to his life stands in Poet's Corner.