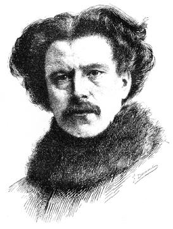 Maurice Rollinat was a French poet whose life spanned the second half of the 19th century.
He was born on the 29th December 1846 in the town of Châteauroux which is the capital of the department of Indre, located in central France.  When the boy was two years old his father was the local representative on the National Assembly.  One of his father's close friends was the female novelist George Sand and it is widely believed that she inspired Rollinat when he produced his first collection of poetry in 1877, this being titled Dans les brandes.
Rollinat's early writing followed the "realist" movement in art and literature but he changed direction after that first volume was published.  He began to favour the "decadent" movement when he joined the anti-religious authority literary group called Les Hydropathes.  This group of writers had been founded by Émile Goudeau.  Rollinat began to produce what many believe to be his best work, often emulating the style of the famous French poet Charles Baudelaire.  He explored very dark themes including the very real and physical horror that many feared concerning death.  He described a variety of unpleasant images in poems such as Les Spectres, Les Luxures and Les Ténèbres.  Such was the impact of his poetry that fellow writer, and friend, Jules Barbey d"Aurevilly said once that



In stark contrast to this work he also wrote a book of verses for children in 1893 called Le Livre de la Nature.  Many of his poems were adapted as songs and Rollinat himself often performed them, accompanied by a pianist, at the Paris cabaret venue called Le Chat Noir.  He was a pale, gaunt man whose often electrifying performances were inspired by the many well-known faces seen at the cabaret including the likes of Sarah Bernhardt, Oscar Wilde and Leconte de Lisle.  Artists seemed to find his face interesting as a number of portraits of him were painted.
His output of poetry was substantial and he often used the love of the Berry countryside where he grew up as inspiration.  His best known, and best-selling work, was a collection named Les Névroses which included a number of pastoral pieces glorifying the landscape, its folklore and diverse wildlife.  One of these poems, called La Vache au Taureau is a charming rural piece about the everyday event of a man who leads his heifer to the prize bull, for mating purposes, and the opening verses are reproduced here: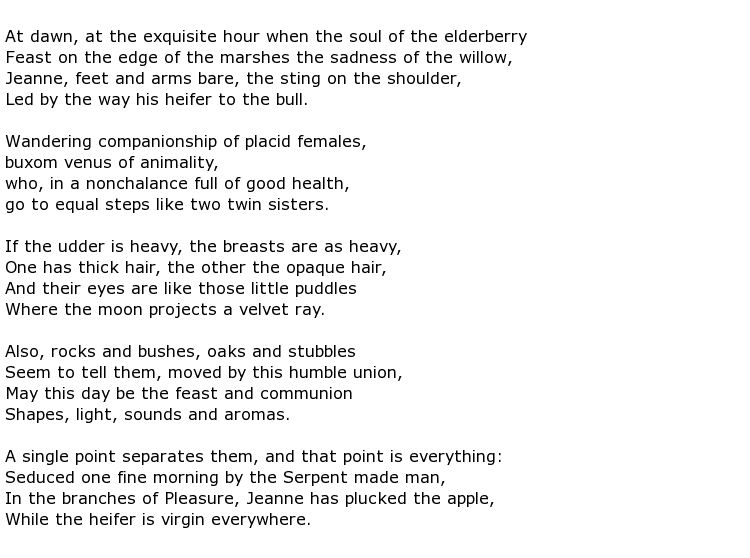 This was one of Rollinat's poems that was much admired by Oscar Wilde and many others, establishing his name amongst the great French poets.  He married an actress named Cécile Pouettre who died, tragically when she contracted rabies and Rollinat was so distressed by this event that he became deeply depressed and attempted suicide on a number of occasions.  Eventually his mind was so disturbed that he was admitted to an institution for the insane at Ivry-sur-Seine and it was here that he died.
Maurice Rollinat died on the 26th October 1903 at the age of 56 and he was buried in the Saint-Denis cemetery in Châteauroux.  In the poet's honour a sculpture was produced by Rodin called "Poet and the Muse" and this can still be found on the wall of a village church in Crozant.