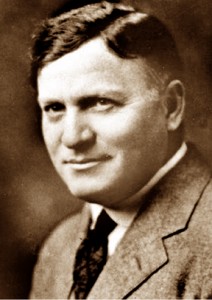 A poet with a taste for the spiritual, Max Ehrmann was born in Indiana in 1872. His parents were from Bavaria and he was educated in the small town of Terre Haute whilst attending a German Methodist church nearby. He is probably best known for his poem Desiderata that has often been quoted and misquoted down through the years, even to the present day.
Ehrmann went to college in Indiana and studied English, moving on to Harvard where he took law and philosophy. There he had his first taste of editing, taking on one of the Harvard sorority magazines that was published nationally. Having passed his degree and been accepted to the bar, Ehrmann returned to his home town to practice.
Ehrmann wrote A Farrago in 1898 and several other works that achieved moderate success including Scarlett Women and The Plumber. Even when he wrote Desiderata in 1927 it didn't receive very much attention. Although Ehrmann was well-known in his own circles and was awarded an honorary doctorate and received Harvard's highest alumni award, he was hardly noticed for his literary exploits.

That Desiderata became one of the worlds most loved and inspirational poems is testament to the poem's strength and enduring appeal. Erhmann died in 1945 and so was unable to see how his work suddenly began to blossom in the 1960s.
It began when Democrat Adlai Stevenson was passed away and the poem was discovered beside his bed. In the turbulent times of the flower power era, posters of the poem began to be widely seen around the United States, and then across the globe, as an inspiration for the times. Leonard Nimoy, who played Spock in Star Trek, read it on an album of poetry and in the early 1970s it headed into the charts as a recording by television talk host Les Crane.
It wasn't until then that questions of copyright came up and the real author, Max Ehrmann was suddenly rediscovered and his family began to receive royalties. It seemed throughout the ensuing years, Desiderata was being quoted somewhere by someone famous, including in 1972 by Canadian ex-president Trudeau and more recently by actor Morgan Freeman in 2012.

Since its rediscovery, Desiderata has appeared on posters adorning walls over the world, has been quoted in films and by prominent celebrities and is still perhaps the best, and most well-known, inspirational poem of our times.