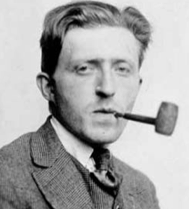 Maxwell Bodenheim was a US born poet, magazine editor and novelist whose sometimes outrageous lifestyle, leading him to be known in New York City as the



would eventually lead to a violent death for both himself and his wife.  He was most famous as a writer during the



of the 1920s.
He was born Maxwell Bodenheimer in Hermanville, Mississippi on the 26th May 1892 to parents of German origin.  He was taken to live in Chicago at the age of eight and began a lifelong friendship with a writer named Ben Hecht around the year 1912.  As Bodenheim began to make his name as a writer the two friends founded The Chicago Literary Times, although this was very much a short-lived publication.  It attracted notable contributions though from the likes of Edgar Lee Masters and Arthur Davison Ficke, amongst other well established writers.
A move to New York City heralded a period of literary success for Bodenheim and, during the 1920s and 1930s he lorded the Bohemian scene of artists and writers who congregated around Greenwich Village.  Unfortunately for him, at this time of widespread prohibition, he liked the drink a little too much and fell into bad company all too often.  He liked other men's wives too and often found himself punched on the nose for his trouble.  His popularity as a writer and general man about town soon waned and he eventually found himself begging on the streets for loose change. The previously haughty, superior attitude that he often showed to his contemporaries soon dissipated.
It could have been much better though.  He was publishing poetry by 1914 in Poetry Magazine and a good future seemed assured.  In 1917 one of his poems was featured in an anthology alongside the work of such luminaries of the literary world as William Carlos Williams and T S Eliot.  In New York he was a leading member of the Raven Poetry Circle.  At least ten collections of his poetry were published, from Minna and Myself (1918) through to his Selected Poems 1914-1944, published in 1946.  He also had thirteen novels to his name during his popular years.
Bodenheim's poetry often had a dark edge to it.  He wrote a lot about women, and not often in a sympathetic way, such as in his poems Advice to a Woman and The Courtesan Chats.  Perhaps he foresaw his untimely death with the following poem, simply titled Death: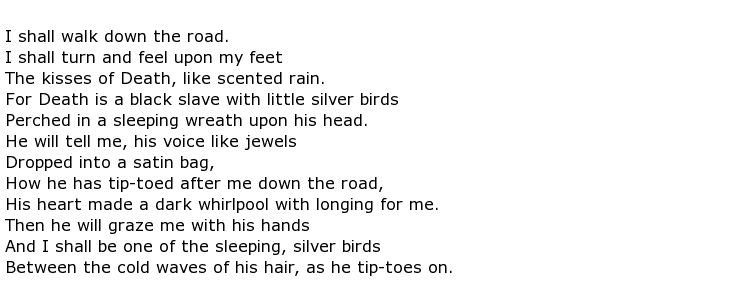 By the time he married his third wife Ruth, in 1952, his fortunes were at a desperately low level.  He would sit on the street begging with a sign saying that he was blind, although he could see very well.  Ruth contributed to their joint misery by working as a prostitute and it was perhaps while engaged in this act that the pair of them were murdered.  A man called Weinberg had invited them to his sorry abode in a Manhattan flophouse and, while he was having sex with Ruth, he was challenged by Bodenheim.  The man shot him dead and then turned on her with a knife.  He escaped the death penalty when, although convicted of this double homicide, a judge declared him insane.
The murder of Maxwell Bodenheim took place on the 6th February 1954.  He was 61 years old.