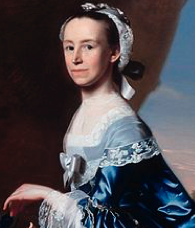 Mercy Otis Warren holds a unique place in the history of American politics and literature.  At a time when women did not publish written works under their own name she was a pioneering, fearless writer and political activist who became known as the "Conscience of the American Revolution".  Her patriotic and stirring articles and poems galvanised and influenced the country's founding fathers at a time when the old British colonial rule was banished forever.   Her 1805 history of the American Revolutionary War was remarkable as it was the first one published, by either man or woman.
She was born Mercy Otis on the 14th September 1728 in West Barnstable, Massachusetts which is where she grew up in a large family of thirteen children, the daughter of prominent lawyer "Colonel" James Otis.  Despite there being no opportunity to obtain a formal education Mercy took full advantage of the private tuition provided and was soon an avid reader of history and language books.  She grew up in a staunchly pro-revolutionary household so it was inevitable that she would follow in her father's footsteps when old enough to make her own voice heard.
She was married to politician James Warren in 1754 and over the next twelve years was busy raising their five sons while actively supporting her husband's political career.  They turned their home in Plymouth into a meeting place for parties such as the "Sons of Liberty", forever campaigning to overthrow the British.  Mercy was a prolific writer of poetry, most of which were direct attacks on the colonial powers, and she also wrote many tales of heroic freedom fighters.  Her husband affectionately called her the "scribbler".   Greatly encouraged in her endeavours she had a collection of poetry published in 1790 under the title Poems, Dramatic and Miscellaneous.  The book actually included two plays in addition to 18 poems with strong political messages.  She put her own name on the cover and, in doing so, she was making a firm statement on behalf of women that it was acceptable for the "gentler sex" to become published writers.
It was inevitable that many distinguished and like-minded people would be attracted to her strong personality and idealism and she numbered the likes of John Adams, Martha Washington and Hannah Winthrop amongst her friends.  Adams was, in fact, her literary mentor during the years leading up to the Revolutionary War.  She also had English admirers such as the radical Catharine Macauley and Warren wrote to her expressing her deep feelings about the coming revolution.  This letter included the following bold statement:



Warren wrote a great deal of poetry and several plays including The Adulateur, in 1772, which was a dramatic telling of events leading up to the Revolution.  Others followed and her reputation as a patriot soon spread, encouraging others to take up her cause.   After the war she produced a three-volume account called 



It was popular in all quarters and President Thomas Jefferson was one of many who subscribed to it.
Although the large majority of her poems, play, articles and letters were politically-themed she did write in a tender way sometimes, a good example being her poem



This was clearly written to comfort a distraught friend and the final two verses are reproduced here: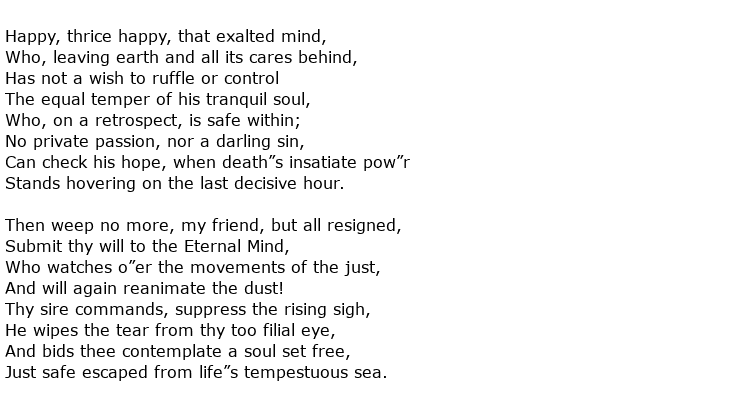 Mercy Otis Warren died on the 19th October 1814 at the age of 86.