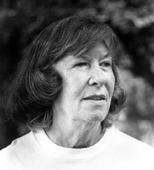 Mona Van Duyn was a multi-award winning American poet whose most prestigious honour came in 1992 when she was appointed Poet Laureate Consultant in Poetry to the Library of Congress.  As well as being a prolific writer she served the University College of Washington University for many years as a lecturer and only stopped doing so when she retired in 1990.
She was born Mona Jane Van Duyn on the 9th May 1921 in the Iowa town of Waterloo.  Her formative years were spent in a much smaller town called Eldora and here she made great use of the public library.  She loved to read and was writing poetry from a young age, carrying this on right through to her high school years.  She earned a place at the Iowa State Teachers College and graduated from there with a BA in 1942.  Further hard work got her a Masters' degree the following year, this time from the State University of Iowa.
Mona met her husband Jarvis Thurston while studying and they were married in 1943.  Both had promising academic futures and secured positions at the University of Louisville before moving on to the Washington University in St. Louis in 1950.  They had already begun producing Perspective: A Quarterly of Literature and the Arts in 1947 as a joint venture and they carried this on when they moved to St Louis.  The pair have been credited with encouraging new literary talent including future writers such as Douglas Woolf and Anthony Hecht amongst many others.  The magazine was a great success, publishing work by both established and new writers, and ran until 1975.  Their literary salons in St Louis attracted a procession of creative writers as well as literary critics.
Van Duyn's own career as a poet could be described as fluctuating.  On the one hand she would win prizes such as the National Book Award in 1971 for To See, To Take and the Pulitzer Prize in 1991 for Near Changes.  Conversely there were periods when she almost disappeared from the literary scene.  A lot of her work was on the theme of love and marriage and she often gave contrasting views of that noble estate, ranging from the optimistic to the scathing.  A good example of this was her poem, written as usual without rhyme or obvious evidence of metre, called Earth Tremors Felt in Missouri.  It is reproduced here: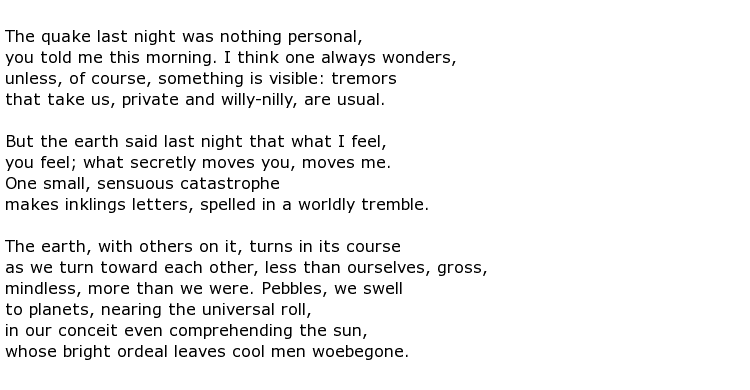 Along with her many awards she was elected as a fellow in the Academy of American Poets in 1981 and then, four years later, she was made one of the 12 Chancellors who would hold that position for life.  Her ultimate honour was being Poet Laureate between the years 1992-93.  Immediately after this she was inducted into the St. Louis Walk of Fame.  Her output of poetry was substantial with a steady stream of books being published throughout her lifetime.
Mona Van Duyn lived a long and productive life before being struck down with bone cancer in her early 80s.  She died at home in University City, Missouri, on the 2nd December 2004 at the age of 83.