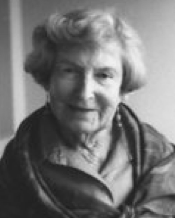 Nancy Cato was a 20th century Australian poet, biographer and historical novelist. She has over twenty titles to her name and, in addition to her writing, was an active conservationist and environmentalist as well as working for a time as a journalist.
She was born Nancy Fotheringham Cato on the 11th March 1917 in the South Australian town of Glen Osmond.  She was well educated, initially at the Presbyterian Girls' College in Adelaide.  She won a place at the University of Adelaide, reading English Literature and Italian.  Having graduated in 1939 she then went on to study at the South Australian School of Arts for two more years.  While still a student she worked as a journalist cadet on an Adelaide newspaper called The News.  In the late 1950s she was their art critic.
Cato was one of the founding members of a literary group called the "Lyre-Bird Writers", this being set up in 1948.  Their aim was to promote Australian literature and encourage new writers.  She also took a keen interest in the Aboriginal peoples and joined the Jindyworobak Movement to further that cause.  She took part in editing the



in 1950, a book showcasing indigenous Australian poetry and customs.  Further involvement in literary movements came with her membership of the



during the 1950s and 1960s.  For her tireless work in these organisations, as well as her own considerable literary output, she was honoured in 1984 with the award of the Order of Australia, her Member status meaning that she could use the post-nominals AM.  Additionally, in 1991, she was awarded an honorary Doctor of Letters by the University of Queensland.
Cato's poetry often described in detail her observations of the natural world, using simple but effective language.  Take, for example, her poem Daybreak which vividly describes the daily ritual of the sunrise but warns the reader never to take this glorious event for granted.  She urges that we should all treat each day as potentially the last one that we might witness this "greatest show on earth".  A sobering thought, indeed!  The poem is reproduced here: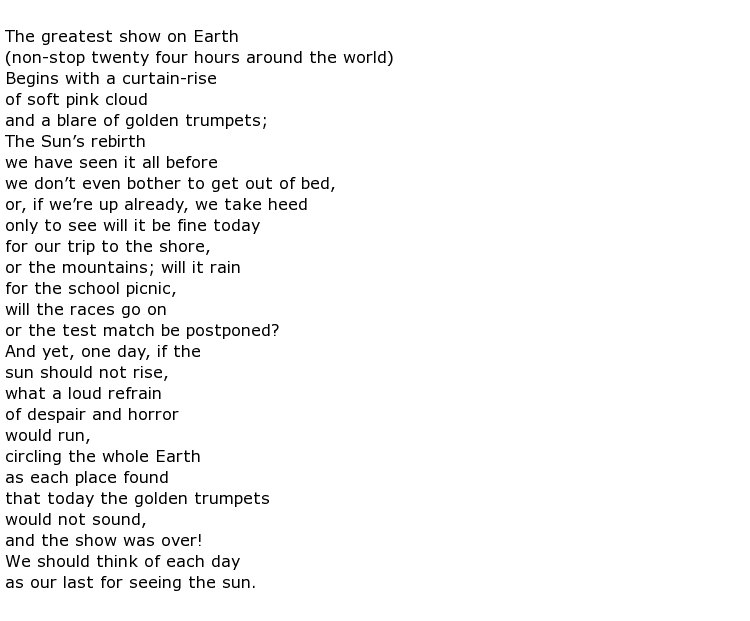 Her poetry can be found in two collections.  The Darkened Window: poems was published in 1950.  Seven years later she published The Dancing Bough.  Perhaps she is better known though for a trilogy of books that came under the overall title All the Rivers Run but was published separately as All the Rivers Run in 1958, Time, Flows Softly in 1959 and then But Still the Stream in 1962.  This historical saga, telling the story of a woman's struggle for survival, was made into an Australian television mini-series, first shown in 1983.  Amongst her other titles is Mister Maloga which tells of a missionary's experiences with the Aboriginal people who lived on Victoria's Murray River.  Like many other Australia writers, she found that publications such as The Bulletin, amongst others, were happy to publish her work.
A book about the over-development of land in her home town of Noosa came out in 1979 and her campaigning work on behalf of the environment in the Queensland area led to her becoming a life member of the Noosa Parks Association, and honorary park ranger.  She travelled overseas extensively with husband Eldred and they had three children together.
Nancy Cato died at Noosa Heads on the 3rd July 2000 at the age of 83.