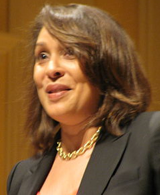 Natasha Trethewey is an American prize-winning poet who also had the honour of serving as United States Poet Laureate for two terms, plus Poet Laureate for her home state of Mississippi.  She is an English and Creative Writing Professor at Emory University in Atlanta, Georgia.
She was born on the 26th April 1966 in Gulfport, Mississippi.  Her parents were actually deemed to be illegally married at that time as mixed-race relationships were not tolerated then.  Apart from this, Natasha's early years were incredibly difficult with her parents' marriage ending in divorce and then this was followed by the murder of her mother by her second husband.  She was nineteen at the time and the loss of her mother was the catalyst that turned her into a poet.  She said later that writing helped her to put down her feelings about the tragic event and to, possibly, make some sense of it all.  She will have also been inspired by her father who was a university professor of English at Hollins, in Virginia, and he was also a poet.
This was the same establishment where she earned her Masters' degree in English and creative writing, having first got a BA from the University of Georgia.  She has kept a lifelong connection with Hollins and, when she was called up to present degrees and diplomas to students in 2010, the university awarded her an honorary doctorate.  This was her second such honour, the first one coming from the Delta State University, Mississippi.
Trethewey's poetry style is a combination of free verse and a more formal presentation as found in sonnets and the nineteen-line poetic form known as the villanelle.  Understandably, considering her family background, she often delves into the legacy of racial inequality in the United States for material.  She also explores historical events such as the Civil War, an interest that was no doubt sparked by the fact that she was born on Confederate Memorial Day.  In 2007 she was awarded the Pulitzer Prize for her powerful collection of work known as Native Guard which is the story of an all-black regiment of former slaves who enlisted into the Louisiana Native Guards.  These soldiers were assigned with the guarding of prisoners of war from the Confederate side.
She wrote a piece of free verse called Elegy for the Native Guards to celebrate the memory of these men who, tragically, have no tangible resting place on the island where they served as much of the land was swept away in a hurricane.  It describes how the bones of these soldiers can now be found where the fish swim.  Here is the poem: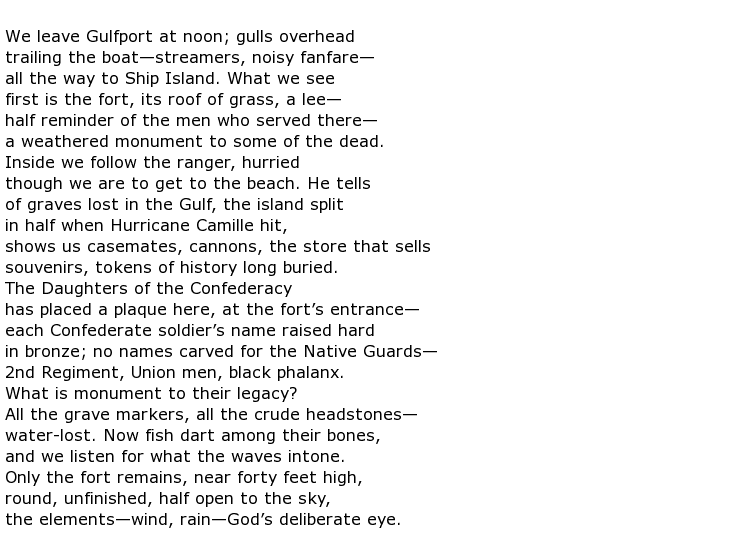 Her rich, often classic in tone poetry was recognised in June 2012 with her appointment as the 19th US Poet Laureate.  James Billington, the Librarian of Congress at that time, said that she



It was, to some degree, unusual that she should have been appointed at this stage in her career which was, effectively, in the middle rather than towards the end, as was the case for most Laureates.
Natasha Trethewey is now in her early 50s and she was appointed for a second Laureate term which concluded in May 2014.