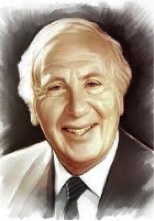 Nizar Qabbani was a Syrian-born poet, lawyer and diplomat who lived for much of his life outside of the middle east where he was able to express himself with a great deal more freedom than would have been allowed in his homeland.  His work was often seen as a homage to womanhood and he campaigned staunchly for their equal rights.  Losing his sister to suicide had a profound effect on the 15 years old Nizar – she killed herself to avoid being forced to marry someone she did not love. He was never afraid to speak out against Arab authoritarianism, holding much more liberal views of politics than most home-based Syrians.
He was born Nizar Tawfiq Qabbani in 1923 in Damascus.  The son of a middle class merchant father he was able to attend good schools and he went on to gain a law degree from the university in his home town.  He dabbled in poetry while doing his degree and caused some consternation by publishing a collection of romantic poems called The Brunette Told Me.  With frequent references to the female form this was not what society in Damascus was used to but he managed to get a leading politician in the education department on his side, thus rubber stamping the book as "acceptable".
He graduated from university in 1945 and pursued a diplomatic career which enabled him to live in a number of capital cities including Madrid and London and he later spent time in China where he wrote some of his best work.  Throughout his long exile from Syria he never forgot Damascus and he wrote a poem called Jasmine Scent of Damascus as a tribute to his home city. He became much more interested in Arab causes after the 1967 Arab-Israeli war.  The defeat of his compatriots was probably the reason for his change of direction from poetry of an erotic/romantic nature to something more overtly political.
In fact he published a poem called Marginal Notes on the Book of Defeat which was an open attack on Arab strengths and capabilities.  It drew widespread multi-party criticism as it was not the done thing for an Arab to criticise other Arabs in such a public way. Qabbani continued to write though and his publishing output was considerable.  As well as a number of books in his name he wrote often for Arab-language newspapers such as Al Hayat.  His first book of poetry, Childhood of a Breast in 1954, had established his reputation as a writer not afraid to explore female sexuality and, thus, upsetting the establishment.
Qabbani decided London was a safe haven after the Arab-Israeli war in 1967 and he formed his own publishing house at that time, in London.  It was clear that he was a committed Arab nationalist and he used the publishing house to express his sorrow about the outcome of the war while criticising those that he felt were responsible for the defeat. His writing became more hard edged as he went on and he wrote poems openly criticising countries that he saw were run by dictators.  Here is an example from one poem that was interpreted as an clear attack on those dictatorships:

He did not remain in London at that time but he did, in fact, return there in 1983 where he spent the last fifteen years of his life.  This was shortly after his second wife had been killed by a guerrilla bomb in Beirut and this had a profound effect on Qabbani.  In his poem Balqees he openly blamed the entire Arab world for her death. Here are a few powerful lines from this poem:

Nizar Qabbani died in London in April 1998 of a heart attack shortly after his 75th birthday.