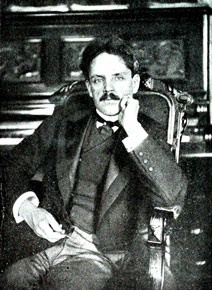 Born in Sheffield in England in 1863, Oliver Herford was a poet and artist who was often compared to Oscar Wilde for his flamboyance, wit and style. His father was a Unitarian minister and when Herford was just 12 years old the family moved to America settling first in Boston but then moving to Chicago.
Herford received a good education throughout his life and quickly became a competent artist and developed a love of humorous poetry. He studied at the Antioch College in Ohio before heading back to England and London, taking art at the Slade School, and then moving on to the prestigious Academie Julien in Paris. His education finished, he came back to the United States in 1893 and settled in New York where he forged a successful and popular career as a writer and illustrator.
His work began to appear in well-known publications such as Life Magazine and Harper's Weekly and he went on to write and illustrate a number of books during his lifetime. Popular for his humorous sayings and the author of several plays and scripts, Herford was also a longstanding member of the famous Players' Club in New York.
In 1904, Herford married Margaret Regan who was a popular poet and playwright in her own right and they lived the rest of their days in New York. His work included the words and illustrations for Little Book of Bores but he often wrote short, funny poems such as The Hen and The Chimpanzee that appeared in magazines such as Punch and Century Magazine.

He collaborated with a number of prominent writers and illustrators at the time including Ethel Mumford and John Cecil Clay, who once published a book with his name as co-author as a joke. When Herford discovered this he asked for 90 per cent of the royalties but eventually received an equal third – the book was highly successful even though he had no role in its writing.
Herford was perhaps famous more for his illustrations than his writing but poems such as I Heard a Bird Sing are still used in anthologies today.

Writing work that appealed to both adults and children, he had a long and successful career that produced a wide range of humorous and serious verse for both magazines and books. He was also known for his keen wit and a number of his humorous quotes such as 'only the young die good' have stood the test of time.
Herford stayed in New York until his death in 1935 at the age of 72, his wife, who was in poor health, passing away a few months after him.