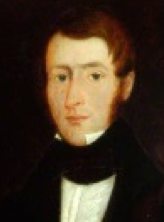 Patrick Branwell Brontë was a 19th century English writer and artist who was the only male member of the famous Brontë literary family which also numbered sisters Anne, Emily and Charlotte.
He was born on the 26th June 1817 in Thornton, a small village close to the West Yorkshire city of Bradford, the son of a clergyman and the fourth of six children.  At the age of four the family moved to The Parsonage in Haworth which is now the well-visited museum that attracts devotees of the Brontë clan from all over the world. He received home tutoring from his father and, like his sisters, displayed early signs that he might become a famous writer.  He was also an accomplished portrait painter but, unfortunately, his life took a few wrong turns and his alcohol and drug addiction, allied to a poor choice of female companions, led to an untimely death at the age of only 31.
It is possible that the loss of his two elder sisters affected him badly as he was only eight years old when they died but he seemed determined to make something of himself.  He was an avid reader of publications such as Blackwood's Magazine as well as classical works of literature.  He even set up his own magazine while still only a boy of 12 in which he could include his own poetry and other pieces of writing but his attempts to get his work published were met with failure at first.  As a young man Brontë tried to break from the shackles of an overwhelming, female home life by frequenting the public houses of Haworth.  He also joined a Masonic lodge as soon as he was old enough to be admitted.
He decided to study art under an artist named John Bradley and soon developed a talent for portrait painting.  One of his most famous pieces is of his three surviving sisters, a painting that hangs in London's National Portrait Gallery.  He was originally in this painting but he decided to paint himself out as he was dissatisfied with his own image.  He pursued this activity as a line of work during the late 1830s but failed to make a financial success of his endeavours.
Brontë hoped to make a career as a private tutor and was engaged by a family in the north western Lake District town of Broughton-in-Furness.  This employment was short-lived but he used his time living in the area to canvass the opinions of poets such as Hartley Coleridge and Thomas de Quincey on his own poetry and translations of the classics.  His poetic efforts were, in truth, only mildly successful but he persisted with his writing wherever he happened to be living.
In January 1843 Brontë took up another tutoring position at a place called Thorp Green, near York.  His charge was the young son of the Reverend Edmund Robinson and his wife Lydia, née Gisborne.  Reports suggest that he nurtured an unhealthy relationship with Mrs Robinson and, in fact, he wrote a poem about her called Lydia Gisborne.  He had an unhappy time there and, in apparently melancholy mood, he wrote the poem simply called Thorp Green.  Here he appears to rue the opportunities wasted and thinks back wistfully to happier times: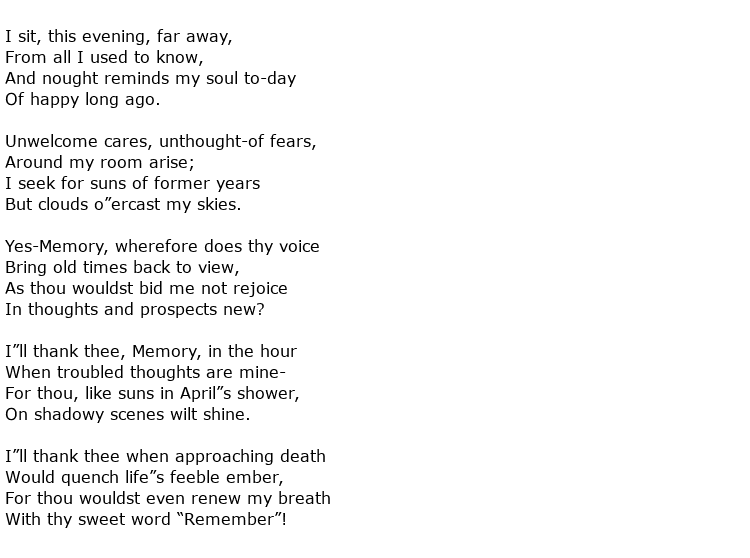 Having been dismissed from this post he returned to Haworth to write and, in fact, became the first of the Brontë family to have his work published.  He still hoped that his former employer's wife might marry him once the Reverend Robinson had died but she made it clear that this could never happen.  This, perhaps, was the catalyst that sent him spiralling into a pit of alcoholism and drug dependency.
Patrick Branwell Brontë died on the 24th September 1848 of tuberculosis, aged 31.