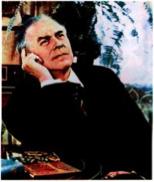 Pavlo Tychyna was a multi-award winning Ukrainian poet and academic of the 20th century who served his country well as a statesman and public activist. He also acted as an interpreter having mastered several languages.
He was born Pavlo Hryhorovych Tychyna on the 11th January 1891 in the northern Ukrainian town of Pisky. His mother, a teacher, produced ten children for her husband, a deacon, and Pavlo was educated locally. His studies included the theological school at Chernihiv and he was also a member of the choir at the Trinity monastery in the same town. Between 1907 and 1913 he studied at the Chernihiv seminary and came into contact with fellow poets such as Vasyl Ellan-Blakytnyi. Tychyna was able to get his work published in a number of local publications.
He took up employment with the Kiev newspaper called Rada and also worked for the Chernihiv local government as a statistician. World War I was just around the corner but Tychyna was spared the horrors of the trenches through ill health and he worked through the war as a journalist. During the 1920s he joined in with the many post-revolutionary literary groups that existed in Ukraine while making sure that he stayed within pro-government constraints at all times. He was living in Kharkov in 1923 and then Kharkiv where he was a member of VAPLITE, a literary group with strong Communist party ideologies.
However, Tychyna strayed slightly from the organisation's path and voluntarily ceased writing, although this was only a temporary measure. Later he was active in Eastern Studies in Kiev, learning to speak and write in the Turkic, Georgian and Armenian languages. From being a typically symbolist poet he tended to sway this way and that, depending on what was socially acceptable in the Soviet Union. For example, his early work displayed colourful imagery but this was diluted in time due to political expediency.
Perhaps to prove his loyalty to the authorities, Tychyna wrote an ode in honour of Joseph Stalin and also the lyrics that were adopted as the state anthem for the Ukraine. He was not universally popular though, with some Ukrainian exiles openly criticising his pro-Communist stance. It may be though that he was misjudged. More recent studies of his work have revealed that there was an underlying mocking of what he was perceived to be supporting. He has certainly become a controversial figure in Ukrainian literature.
He was actually nominated for a Nobel prize for his work but was forced to reject the nomination by the Soviet authorities. Amongst the awards that he did receive, however, are the Stalin Prize which was awarded in 1941 for a collection of poetry called A feeling of the family united. Other examples of his work, all of an overtly political nature, include The Party Leads, published in Pravda in 1933,The Party is our Guide, (1934) and To Grow and Act (1949).
He received the Order of Lenin no fewer than five times during his lifetime and he won a gold medal award under the title "Sickle and Hammer". He was clearly very much IN with party members, despite his underlying distaste for many of the excesses performed by the Soviet regime during his lifetime. Indeed he could consider himself fortunate to have survived when so many of his countrymen suffered terribly in the purges of the 1930s.
Pavlo Tychyna  died on the 16th September 1976, aged 76.