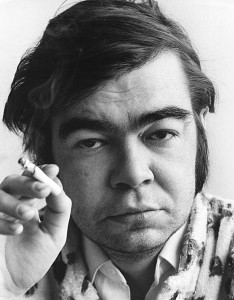 An influential poet in the 60s and 70s in Finland, Pentti Saarikoski was born in Impilahti in 1937. His parents and family came from middle-class Finnish stock, his father working at one time as a journalist but also as a civil servant. The greatest influence on his poetry, however, came from his mother who hailed from Karelia, the heartland of what was considered Finnish poetry at the time.
Well educated, Saarikoski went to Helsinki University and studied literature but did not finish his degree and during the 1950s he struggled to make his way as a poet. His first two collections titled Poems and Other Poems were published in 1958 and owed much to his study of ancient Greek literature whilst at university but met with little critical success.
To make ends meet Saarikoski worked as a journalist, finding a job as columnist for Uusi Suomi which was a conservative paper, producing a number of satiric sketches that earned him a reputation amongst the readership. This may well have contributed to the success of his next collection of poetry, What is Actually Going On?, which was published in 1962 and received wide spread critical acclaim.
It is thought that the collection brought about a change in Finnish poetry, ushering in a new era of participative verse with writers bringing their own political views to the fore. Saarikoski wrote about issues such as the Cold War and the landscape of geo-politics that was closely linked to Finland's neighbors Russia.
Saarikoski became famous not only for his writing but also for his bohemian attitude to life – marrying four times and having a reputation for hard drinking and confrontation. He also worked on a number of translation, including Joyce's Ulysses, and joined the communist party in the 1960s, publishing a copy of Chairman Mao's poetry. With his political opinions and a failed attempt to get elected to parliament, Saarikoski was actually considered one of the foremost intellectuals of the era.
He wrote prolifically through the 60s and 70s and traveled across Europe to places such as Romania and West Germany and even Dublin. Whilst in Ireland, in 1969, he began writing a series of poems, that put some distance between him and the communist ideal, Katselen Stalinin pään yli ulos, instead exploring how he could see no place for himself in the new order of things.

As he grew older, Saarikoski struggled with his alcoholism and was hospitalized several times, and in the 70s he retired largely from public life. In 1978 he published My Poems and My Thoughts which showed a return to his interest in Greek poetry but also a growing worry over the damage caused by the nuclear age. He also produced collections such as The Dark One Dances, which referred strongly to Heraclitus, and his popular trilogy, Tiarnia, if often seen as the high point in his writing career.
For a while in his later years, Saarikoski traveled more across Europe and even moved to Sweden for a while before returning to Finland. He died from cirrhosis of the liver in 1983 at the age of 65 and was buried at the New Valamo Monastery in Heinävesi.