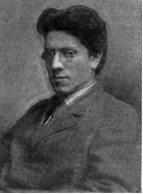 Percy MacKaye was an American poet and dramatist. He made a major name for himself as a playwright but a poetry achievement would probably be the unusual title that was allocated to him in 1945. Having written a poem called The Atomic Law, published in the Christmas 1945 issue of The Churchman, he became known as the first poet of the "Atomic Era".
He was born on the 16th March 1875 in New York City. His father was the actor, impresario and theatre manager Steele MacKaye and the young Percy was soon steered towards theatrical pursuits. First though he attended Harvard University, graduating in 1897, and he followed this with a three-year grand tour of Europe, taking in London, Switzerland and Rome. He studied at the University of Leipzig for two years before returning to New York to take up a teaching post at a private school.
From 1904 he was a member of a group of writers and artists based in Cornish, New Hampshire and from this time on he concentrated full time on his writing, in particular the writing of plays. He was quite prolific during a seven year period up to 1910 when his output included The Canterbury Pilgrims and The Scarecrow among others. He published an innovative piece of work in 1912 called The Civic Theatre. He believed that the public should be encouraged to participate in theatrical productions and pageants and this was, perhaps, the precursor to the concept of "amateur dramatics". He saw no reason why people should not enjoy participating in the theatre as much as they might do watching professional actors on the stage.
He saw the marriage of drama and poetry as being key in this idea, introducing communal chanting and masques. Productions of this type included The Canterbury Pilgrims and St. Louis: A Civic Masque. This ambitious piece saw the involvement of 7,500 participants when performed in St. Louis, Missouri, in 1914. In the same year his work earned him a membership of the National Institute of Arts and Letters.
Apart from his activities as a playwright he was also writing poetry but this seemed to be less of a priority. He was, however "poet in residence" at Miami University during the 1920s. A collection of his poems called The Far Familiar was published in 1937. He also found time to go on lecture tours on the subject of the theatre, and he was a popular speaker at Yale, Harvard and Columbia as well as other American universities.
Here is an example of MacKaye's poetry. It is a short poem called France but it is actually an emotional tribute to one of that country's most famous martyrs, Joan of Arc:



MacKaye had an interesting project in 1950 when he produced a four-play series called The Mystery of Hamlet, King of Denmark, or What We Will, and these were intended to be seen as "prequels" of Shakespeare's famous play Hamlet.
He had an enthusiastic interest in folk literature and it is believed that this was first stimulated by a visit to the Kentucky mountains in 1921. His interest led to a teaching spell at Rollins College in Winter Park, Florida, where he lectured on poetry and American folklore.
Percy MacKaye died on the 31st August 1956 in Cornish, New Hampshire at the age of 81.