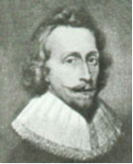 Phineas Fletcher was an Renaissance poet and dramatist whose pastoral play, Sicelides: A Piscatory, was originally intended to be performed at Fletcher's college in Cambridge in front of King James I. Unfortunately it was only ready for staging after the king had left so it lay dormant until publication in 1631, some sixteen years later.
Born on the 8th April 1582 at Cranbrook in Kent, the son of Dr Giles Fletcher who was a parliamentarian, diplomat and poet. Educated at Eton school, Phineas then went on to King's College, Cambridge at the age of 18 from where he graduated with a BA in 1604. He supplemented this with a Masters' degree four years later.
Fletcher had ambitions to be a priest and he was ordained while at Cambridge. He might have remained there but for a dispute over money owed to him which caused him to leave and take up the post as a chaplain. The baronet Sir Henry Willoughby then arranged that Fletcher should become rector at the small town of Hilgay in Norfolk. He was married and remained here for the remainder of his time.
He was certainly a prolific writer and, during his lifetime, produced a volume of work of much greater than many of his contemporaries. It is believed that his output was on a par with canons produced by the likes of John Milton and Edmund Spenser. It was the variety of his work that makes him stand out among fellow Renaissance writers though. As one would expect there is a good deal of religious themed prose, poetry and hymns to be found there. Additionally there are pastoral eclogues, dramatic plays, medium length verses and lyrics to be set to music. The quality and variety of his work was outstanding at that time.
In 1627 he wrote a furious attack on the Jesuit faith in the form of two parallel poems that were written in English and Latin. The 19th century Scottish clergyman Alexander Balloch Grosart studied this work, amongst many other pieces from the Elizabethan age, and suggested that Milton may have drawn his idea of Satan from Fletcher's work.
In contrast, in 1628, Fletcher produced a piece of erotic poetry called Brittain's Ida. Curiously, Spenser's name appears in the title section but the work has been attributed exclusively to Fletcher by most literary scholars since it was written. An example of his pastoral work was the whimsical poem The Happy Shepherd. The first two verses of this are reproduced here: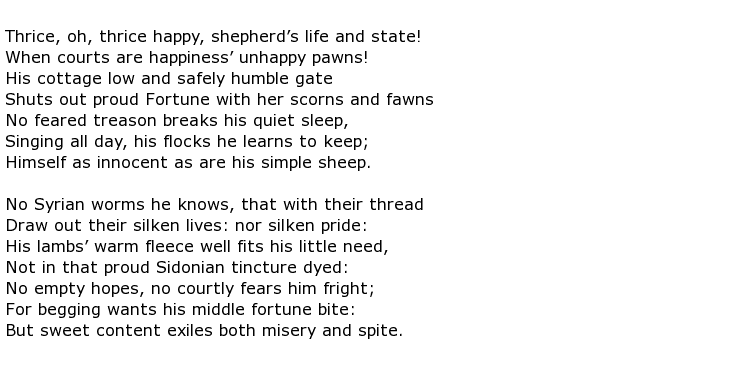 The most significant pieces of work from his pen though are of a theological nature. In 1633 he produced the book that is known as his magnum opus – The Purple Island, a poem that describes, in cumbrous allegorical form, the makeup of the human body and mind. Fletcher likens the human bones to the mountains which lie upon the island and the veins are seen as rivers. It is an ingenious allegory which may not hold the interest of the writer throughout but contains charming rural descriptions that add a little colour to an intellectual exercise.
Phineas Fletcher died at his rectory in Hilgay on the 13th December, 1650 at the age of 68.