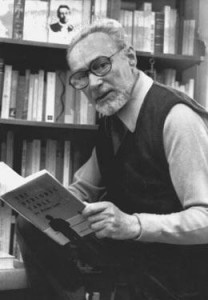 Born in 1919, Primo Levi was a writer and poet, a Jew born in Italy who survived the holocaust of World War II. Imprisoned in Auschwitz, perhaps his most well-known work was If This is a Man which was an account of his time there. He was brought up and schooled in Turin where his father worked in the manufacturing business.
Levi was academically gifted but was often absent from school and taught at home, though he managed to enter upper school a year before anyone else. He was bullied because he was slight of build and Jewish and he was glad to move to the Talmud Torah School in 1932. As with many young people in Italy at the time, he joined the fascists the following year, but his health was fragile and he did not take part in their sporting pursuits.
Early on in his school life, Levi decided that he wanted to become a chemist and in 1938 went to Turin University to study. In the same year antisemitism found its way into the scientific and cultural community with the publication of the Manifesto of the Race that gradually withdrew rights from anyone Jewish. It made Levi's attempt to find a supervisor for his thesis difficult though he eventually graduated. Unfortunately, there were no jobs for him to go to in 1942 and he had to apply under a false name and identity to do the work he was trained for.
In 1943, the Germans entered Italy and Levi and his family were forced to find refuge as many Jews began to be interned. Levi headed for the Alps and joined the resistance before being arrested by the fascist militia at the end of the year. He was sent to an internment camp in Fossoli which was then taken over by the Nazis who immediately began moving all Jewish nationals to their concentration camps.
Levi, in 1944, found himself in Auschwitz where he would remain for the next eleven months before the end of the war. Of the over 600 Italian Jews who had been transported there, only 20 were alive when they were liberated in 1945 by the Russians. On his return to Turin, Levi took time to recover his health and began writing poetry about his time in the concentration camp. He commenced work at a paint factory and started on the first draft of his book If This is a Man, writing it down on scraps of paper.
He married and went into business with a friend of his before going to work for the paint firm Accatti. If This is a Man was published and in 1958 it was translated into English and, more importantly, German. His reputation grew with the publication of The Truce which won him more plaudits and the Premio Campiello literary award.
Later he turned to science fiction with works that included The Sixth Day. His collection of poetry The Bremen Beer Hall was published in 1975 and in the same year The Periodic Table was shortlisted as one of the best ever science fiction books. In 1977, Levi retired from work in the paint factory and devoted himself full time to writing, producing a wide range of literary works including essays, poetry and novels.

Levi died after a fall from his third floor flat in 1987. He was 67 and his death was considered as suicide though he left no note.