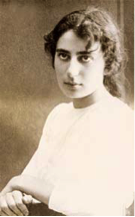 Rachel Bluwstein was a Russian-born poet who emigrated to Palestine at the age of 19 and became known as simply Rachel, or Rachel the Poetess.
She was born Rachel Bluwstein Sela on the 20th September 1890 in Saratov, a town in Imperial Russia.  She came from a large Jewish family, being her mother Sophia's eleventh daughter. She was not an especially healthy child, suffering on occasions with her lungs. While still a young child the family moved to Poltava in Ukraine and Rachel initially attended a Russian speaking Jewish school and then a secular high school. She was a talented writer in her early teenage years with some of her poetry being written by the age of 15. She also had ambitions to be an artist and began studying the subject in Kiev in 1907.
Further art studies were planned in Italy and it was while she was heading that way, accompanied by her sister, that Rachel had her first look at Palestine. She clearly liked what she saw and the two girls stayed on as Zionist pioneers. She picked up some Hebrew simply by listening to the children talking in kindergarten. She then had a series of jobs working in orchards and on the banks of the Sea of Galilee. At a kibbutz just to the south west, called Kinneret, she took up agricultural studies and it was here that she met someone who was to influence her life from then on. The Zionist leader Aaron David Gordon was such a charismatic figure to her that she dedicated her first poem written in Hebrew to him.
Rachel had time for romantic liaisons as well, most notably with the man who would become the third President of Israel – Zalman Shazar. She made the journey to Toulouse in France full of hope in 1913, hoping for more art studies as well as learning something of the science of agronomy. World War I broke out shortly after though and she ended up heading back to Russia where she had a very hard and lonely life for the next six years. She was poor and constantly under nourished and she suffered a recurrence of her childhood lung disease. Relief came in 1919 though when she was able to board a ship heading back to Palestine.
She found her way back almost to where she had started, taking up a place in a kibbutz neighbouring the one she had previously lived on. Unfortunately her illnesses in Russia had not gone away and it was found that she was suffering from tuberculosis. As a result she was expelled from the kibbutz for fear of infecting the children and thus found herself struggling to support herself. She travelled, often giving private lessons to get by.
Her first poem, entitled Mood, was published in a Hebrew newspaper in 1920. This publication, Davar, picked up a lot of her other poems as the years went by, thus allowing the Jewish population of Palestine, and later in Israel, the chance to read and appreciate her work. The bulk of her poetic output though came during the last few years of her life, work that was often of a melancholic nature. Her style was simplistic, portraying her emotions and often her pain and loneliness. Here is a good example, a short, somewhat mournful piece called Sad Song: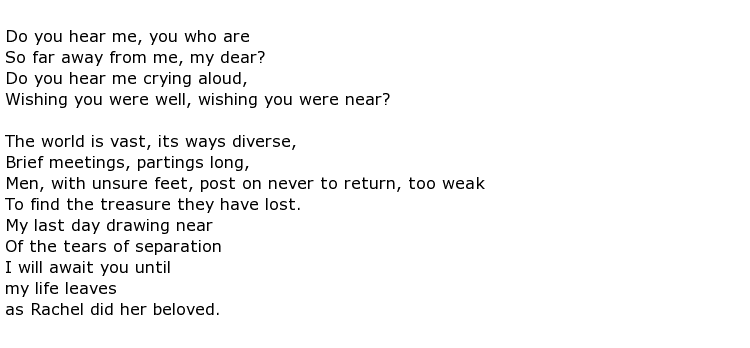 Rachel's legacy to the literature of Israel is that she was the first female Jewish poet to become widely recognised. Previously poetry had been the sole domain of men. Her work is still being read and her anthologies are still in the best seller lists.
Rachel Bluwstein died on the 16th April 1931 at the tragically young age of 40 and is buried where she wished to be, in the Kinneret cemetery overlooking the Sea of Galilee.