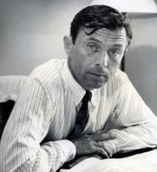 Reed Whittemore was a US poet who had the unusual honour of serving as his country's Poet Laureate on two separate occasions, the first being in 1964, then also in 1984.  He was also a literary journalist and critic, biographer and college professor.
He was born Edward Reed Whittemore, Jr on the 11th September 1919 in Connecticut.  Early education was provided by the Phillips Academy in Andover, Massachusetts and he then went on to Yale University where he graduated with a Bachelors' degree in 1941.  During his second year at Yale, Whittemore produced, along with a fellow student, the literary magazine Furioso which gained a growing reputation when it produced the work of up and coming poets such as


One of the so-called "little magazines" of the day it was described as



by New York journalist Victor Navasky.
Whittemore survived wartime Army service and had his first collection of poems published in 1946.  He then took up a teaching post at Carleton College in Northfield, Minnesota, this assignment lasting just short of twenty years.  At Carleton Whittemore revived his literary magazine from college days, calling it this time the



The premise was the same, to encourage new writers of poetry.  He moved to Maryland later, teaching at Maryland College Park"s University until 1984.
His style as a poet was mostly humorous, one critic remarking that his work displayed a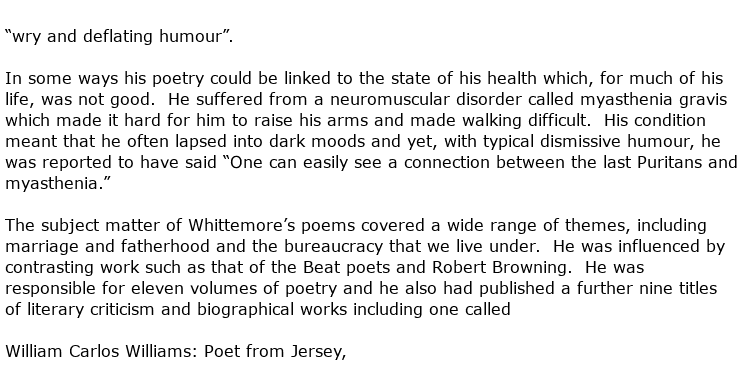 published in 1975.
Here is an example of his poetry, a piece written in 1954 called On the Unimportance of Words which is a satirical view of social behaviour and consumerism in America at that time: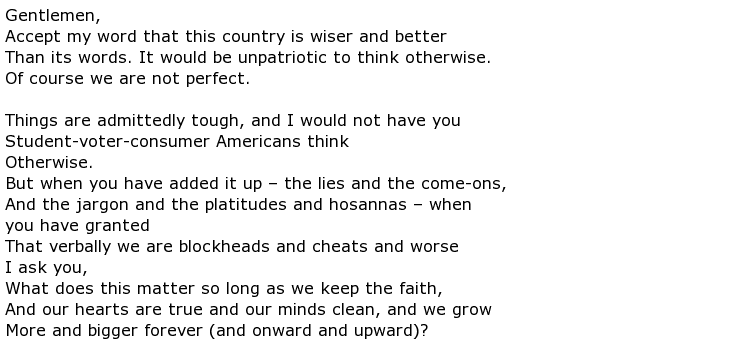 Whittemore earned numerous honours for his work including the


and he was one of the finalists for the



for his book


His best achievements though were the prestigious appointment as Poet Laureate Consultant in Poetry to the Library of Congress on two separate occasions and he also served time as state Poet Laureate for Maryland.
Reed Whittemore was with his wife, when he died on the 6th April 2012 in College Park, Maryland.  He was 92 years old.