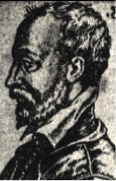 Rémy Belleau, his Christian name sometimes spelled Rémi, was a 16th century French Renaissance poet. Many of his poems appeared to be paradoxical praise for simple concepts found in everyday life and he also wrote about precious stones.
He was born into a noble family some time during the year 1528 in Nogent-le-Rotrou which is a small town in northern France, in the Eure-et-Loir department. He received some private education but was also a student at the well-known College de Boncourt in Paris. His contemporaries at this time were young men who would also go on to become poets. Numbered amongst his friends were the likes of Étienne Jodelle, Pierre de Ronsard and Jean de La Péruse.
It was Ronsard who introduced Belleau into a group of revolutionary young poets called "La Pléiade". In fact, Belleau became known as the "Seventh Star of the Pléiade", writing short pieces known as miniatures. Ronsard called him a "painter of nature". The principle aim of this literary group was the revival of a classic, traditional means of writing which would surely enrich the whole of French literature.
His early work consisted mostly of odes in praise of the simple things that he saw all around him, almost on a daily basis. He wrote poems about butterflies, cherries, shadows and time itself. His first published collection came out in 1556 and was called les Petites Inventions and was inspired by a similar collection published by the ancient Greek lyric poet Anacreon.
A short period of military life came at this point and Belleau was much favoured by two kings – Charles IX and Henry III. The latter made him secretary of the king's chamber and he was briefly involved in a military action against Naples in 1557. On his return from fighting he took up writing again and looked to the past once more for a different style inspired by an earlier generation Italian pastoral poet called Jacopo Sannazaro. It was a mixture of prose and love poetry, with many pieces extolling the virtues of the countryside. This collection was called La Bergerie.  It was written while he was acting as tutor to the children of the rich and powerful Catholic family named Guise, living in a fairly remote, forest location near Joinville from around the year 1563. His time at the Chateau de Guise was an inspiration to Belleau and La Bergerie has been described as his "…richly chaotic, bucolic masterpiece".
Here is an example of his poetry, the first three verses of a lyrical gentle piece about the joys to be found in the onset of springtime. It is called April: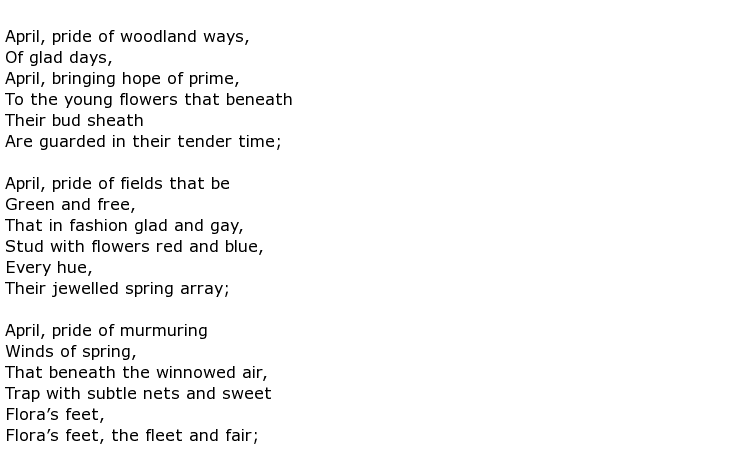 In 1576, which was the year before he died, came his last piece of work. He diversified from his previous efforts by writing poetic descriptions of the properties of precious stones, and these were published under the title les Amours et nouveaux Eschanges des Pierres precieuses. The collection has been described as



It is true to say that, during his relatively short lifetime, he had been a reasonably well known poet. It is also true that appreciation of his work remained well into the 20th century with the surrealist poet Francis Ponge being numbered among the many admirers of Belleau's poetry.
Rémy Belleau died in Paris on the 6th March 1577 at the young age of 49.