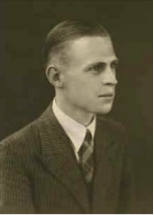 Rex Ingamells was a 20th century Australian poet whose major achievement was the formation, in 1937, of the Jindyworobak Movement. This was a nationalist literary group, made up of white Australian writers which began in Adelaide. Their sole aim was to promote Indigenous Australian culture, focusing on their ideas, customs and poetry, and to discourage the influx of "alien art" into the country.
He was born Reginald Charles Ingamells on the 19th January 1913 in the small South Australian town of Orroroo, the son of a Methodist minister. His early love of poetry was fostered at the Port Lincoln High School and this continued during his time at the University of Adelaide. He graduated in 1934 with a Bachelors' degree and married four years later. His first collection of poetry, Gumtops, was published in 1935 and he followed this up with another one, Forgotten People, in 1936.
He was hoping to secure an academic position following his graduation but struggled to tie something down, moving between various educational establishments during the next ten years. He also worked in publishing and was a commercial traveller for a time. His passion, though, was for the principles of the Jindyworobak movement. He claimed influences from a number of academics such as Percy Stephensen who wrote The Foundations of Culture in Australia, published in 1936. This highlighted, for Ingamells, the dangers of foreign, or 'alien', influences on Australian culture.
The group's manifesto was penned in 1938 by Ingamells and Ian Tilbrook under the title Conditional Culture. It advocated a 'clear recognition of environmental values….. a fundamental break with the spirit of English culture'. Previously dominated by European influences, the movement sought to encourage Australian artists and writers to embrace the spirit of indigenous Aboriginal culture.
Ingamell's stance was, sometimes, a little too radical for some while others were happy to embrace his ideals. Literary critics in the early 1940s described the work coming out of the so-called 'Jindy' movement as "pedestrian". One critic, A. D. Hope, was particularly cutting, describing it as the 'Boy Scout School of Poetry'. Ingamells was not discouraged by this criticism though and he, along with others, continued to write even though the political influence that they had hoped to achieve never really got off the ground. Their work was still being produced as late as 1953.
One poem by Ingamells though was fiercely political, attacking those who maligned the indigenous population, and was published with the title The Gangrened People. Another example of his work describes an Aborigine warrior, sitting quietly by a tree, honing a boomerang, that iconic weapon. It is simply called Boomerang:



He was working on a long verse saga called The Great South Land and this was published in Melbourne in 1951. It was a history of primordial times in Australia and it won both the Grace Leven prize and the Australian Literature Society's gold medal for that same year.
His talent as a lyrical poet was generally regarded to be modest but his efforts as a pamphleteer for the Jindyworobak movement brought him much attention and acclaim. Besides his own output he was responsible for countless volumes of poetry through his work as an editor and publisher, between the years 1938-53. He never tired in his attempts to get the message across.
Rex Ingamells died in a car accident on the 30th December 1955, aged just 42.