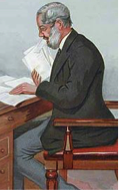 Richard Garnett, C.B. was an English poet and biographer who also specialised in philology, a science which combines literary criticism with the history of linguistics. He worked throughout his entire life as a librarian at the British Museum in London, rising to the position of Keeper of Printed Books from the age of 55 until his retirement. His work as a senior civil servant earned him the honour of Companion Order of the Bath (C.B.).
He was born on the 27th February 1835 in the midlands town of Lichfield, Staffordshire. It would have been his father, also called Richard Garnett, who inspired his interest in philology and librarianship as he was also a senior figure in the British Library, being Assistant Keeper of Printed Books. Unfortunately, Richard snr died in 1850 and his son cut short his education at a school in the London district of Bloomsbury to take up an assistant librarian position. He remained in this employment, gradually moving through the grades, for some 49 years until retirement.
Being in such an environment encouraged Garnett to become a scholar and a writer and he dedicated a great deal of time and effort into translating a number of works from Spanish, Portuguese, German, Italian and Greek into English. He developed skills in philology studying these historical texts. He also wrote poetry, having several collections of his poems published.
His interest in Greek mythology inspired a collection of short stories called Twilight of the Gods and Other Tales, published in 1888, with an extended edition coming out in 1903. The title story is an account of Prometheus and his release from a sentence of torture imposed by Zeus and is generally considered a classic in the genre of fantasy stories.
Garnett wrote many biographies of fellow writers such as William Blake, Thomas Carlyle and John Milton, amongst others. He also produced literary histories such as a History of Italian Literature and English Literature: An Illustrated Record, co-written with Edmund Gosse. Additionally he contributed articles to the Dictionary of National Biography and various encyclopaedias.
He was a prolific poet and one of his poems, Where Corals Lie, was adapted and set to music by the composer Edward Elgar as part of a work called Sea Pictures, a song cycle consisting of five poems written by different poets. This was first performed in 1899 and here are the words to Garnett's poem: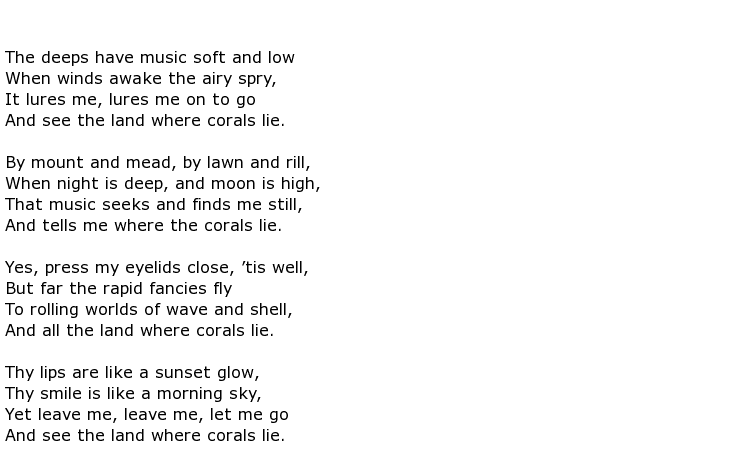 Garnett had an interest in the work of many other writers including Percy Bysshe Shelley. He discovered some of this writer's work that had been previously unpublished and released it as a collection, in 1862, called Relics of Shelley.
Yet another string to Garnett's bow was the study of astrology and he published a monograph called The Soul and the Stars in 1880. He used the pseudonym A. G Trent when it appeared in University Magazine but he was prevented from pursuing this subject further due to ill health. A fellow writer named Joseph McCabe reportedly said that Garnett


Garnett married and others in his family followed him into the world of literature. For example, his grandson David Garnett, known as "Bunny", was one of the famous Bloomsbury Group of writers.
Richard Garnett died on the 13 April 1906 at the age of 71.