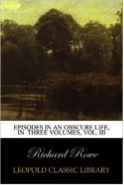 Richard Rowe was an English-born writer, tutor and journalist who emigrated to New South Wales, Australia when in his mid-20s.
He was born on the 9th March 1828 in Doncaster, South Yorkshire, the son of a Wesleyan minister. Unfortunately his father died while Richard was still an infant and the family moved south to the Essex town of Colchester.
At the age of 25 he found himself in Australia and took up a teaching post in Muswellbrook. With ambitions to be a writer he made contact with the famous literary patron Nicol Stenhouse. He assisted Rowe with translating old German texts into English which were then published in the Freeman's Journal. He lost his way somewhat when, in 1857, he was put in prison for drunkenness. Stenhouse heard of his plight and helped him on his release through the rehabilitation process in Wollongong.
He had been very keen to write but now found himself loathing the idea, despite not being qualified to do anything else. Teaching was not to his liking either and he decided he would like to return to England despite only having been in Australia for a relatively short time. In order to raise the money for his return fare he, in 1858, collected all of his work together for publication in Peter 'Possum's Portfolio with a dedication made out to Stenhouse. The often satirical material received mixed reviews; the poetry was described as "unremarkable" while the essays were "competent, humorous but uneven". Nevertheless it sold quite well and is recognised as one of the country's earliest bits of serious literature.
Here is an example of one of Rowe's short poems, a poignant piece called Angel of Life:



Rowe associated with other writers such as William Wilkes and Sheridan Moore and was an enthusiastic member of Sydney's literary circles. He found an outlet for his writing as a journalist on the Sydney Morning Herald and Freeman's Journal and he often wrote under the pseudonym "Peter Possum". With enough money behind him he duly set sail for England, although he settled initially in Edinburgh. Retaining his contact with his benefactor, Nicol Stenhouse enabled him to secure a post as assistant editor on the Scotsman newspaper. He found himself a wife, Mary Ann Yates, and the pair moved to Glasgow in 1863 where he became principal leader writer of the North British Daily Mail. Alas this position lasted for only one year and Rowe moved back south, to London, where he eked out a meagre existence as a freelance journalist.
He slowly recovered his financial standing and contributed many articles to journals such as Good Words and Fraser's Magazine, along with a few Australian papers. He had at least twenty books published, including a few aimed at boys with Australian settings, although much of his work was not seen until after his death. Numbered among his best works were Episodes in an Obscure Life and Friends and Acquaintances, both books being published in 1871.
Richard Rowe contracted cancer of the tongue and died on the 9th December 1879 in the Middlesex hospital. He was 51 years old and he left behind his wife and four children.