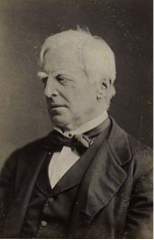 Robert Lowe Sherbrooke, properly known as the 1st Viscount Sherbrooke, was a highly respected 19th century British politician and member of the Privy Council who also wrote a good deal of poetry in his spare time. It is incredible that he achieved so much because he had very poor eyesight, a condition that may have been attributed to his albinism. His terms of high office included the posts of Chancellor of the Exchequer while Gladstone was Prime Minister and he followed this with a two year spell as Home Secretary. He also served with distinction as a statesman in Australia and had a system of electoral division named after him (the Division of Lowe).
He was born on the 4th December 1811 in the Nottinghamshire town of Bingham. His father was the Rector of Bingham. Growing up an albino child his sight was very poor and it almost prevented him from attending school but, fortunately, it was just about adequate for lessons. He was educated locally at first before going on to Winchester school in 1825 where he endured a harsh regime common at that time in public schools. He thrived though and earned a place at University College, Oxford where he won a first class honours degree in the Classics in addition to a second class in Mathematics. He spent time at Magdalen college but left there when he got married.
By 1841 Lowe was in London with the intention of entering the legal profession. His eyesight was becoming an insurmountable problem though, and he took medical advice in sailing for the new colony in New South Wales and soon found employment within the law courts. He made a success of this and branched out into politics. He was an able and popular speaker, especially on education and financial matters and also took up journalism, writing for the Atlas newspaper in Sydney. During the period 1844-47 Lowe wrote countless scathing articles, principally about establishing colonial control over colonial waste lands. He also wrote a number of poems for publication in the newspaper. Here are the opening verses of one which he called The Song of the Squatter: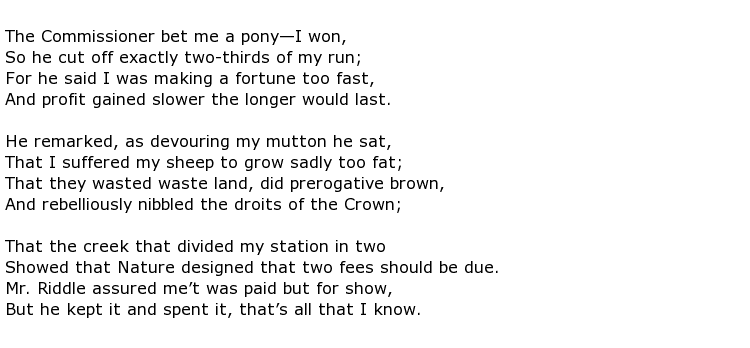 Lowe, his wife and two adopted children returned to England in 1850 and he soon became an in-demand writer, providing leader pages for The Times. He had lofty political ambitions though and secured a parliamentary seat in 1852. In the following years he served in a number of ministerial appointments, enhancing his reputation as he went along until finally, with the support of Prime Minister William Gladstone, he joined the peerage with the title Viscount Sherbrooke.
His health, which had never been good, was failing during his final years. In 1884 a small collection of his poems was made public although they were never intended for publication. This was called Poems of a Life.
Robert Lowe Sherbrooke died on the 27th July 1892 at his home in Warlingham, Surrey, at the age of 80.