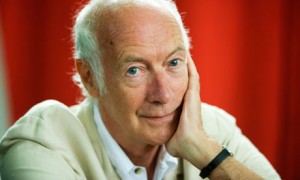 I first learned of Roger McGough when I was working on my teaching certification. One of my mentors told me about a rather frightening poem that McGough had composed regarding how frustrated teachers might sometimes be tempted to behave in the classroom. Of course, the poem was intended as a witty, albeit dark, satire, not as a recommended course of action for any teacher to follow. Anyone who has experienced the "chaos" of a classroom will likely appreciate The Lesson.
Born in the English countryside of Lancashire, England, somewhere to the north of Liverpool, Roger McGough is a renowned English poet, lyricist, and musician. His initial efforts at poetry came when he was attending the University of Hull. The noted poet Philip Larkin was the university's librarian at the time, and McGough shared some of his work him. Larkin was adequately impressed with the young poet's work.
McGough first became known for his charming and witty verses when he and two other British performers formed the musical group, the Scaffold. Filled with humorous songs with McGough's poetic verse at their core, the trio entertained crowds at the Edinborough Festival for several years.
McGough later gained national recognition as a poet when he published The Mersey Sound in 1967. The work was a compilation of poems by McGough, Brian Patten, and Adrian Hall, which sold a record 500,000 copies, making it one of the all time best selling anthologies of poetry ever published. It is still in print today, having been revised in 1983 and then again in 2007. Carol Ann Duffy, Professor of Contemporary Poetry at Manchester Metropolitan University, dubbed McGough as the 'patron saint' of English poetry. Duffy, herself, was appointed as Britain's poet laureate in 2009.
McGough's poems have received academic attention and are generally considered witty and influenced by their application as musical lyrics. McGough was also involved in the humorous interplay in the animated feature Yellow Submarine by the Beatles. He has done numerous audio recordings of poems, including a lively rendition of Longfellow's The Wreck of the Hersperus which McGough read in its entirety in just over a minute. The reading, which included numerous sound effects, can be found on Morgan Fisher's album Miniatures.
In McGough's earlier years, he taught French in Merseyside. His knowledge of the French language later inspired him to translate three of Moliere's into English, including Tartuffe, The Hypochondriac, and The Misenthrope.
An example of McGough's wit can be found in his short piece, The Leader. It reminds me of some of my young students who were often eager to be in charge of a project but then realized that they have no idea where to even begin.
The Leader

McGough's thoughtful wordplay is quite evident in one of his longer pieces. The Way Things Are is a clever and humorous attempt at a father trying to convey answers to his children for questions they may have asked.
The Way Things Are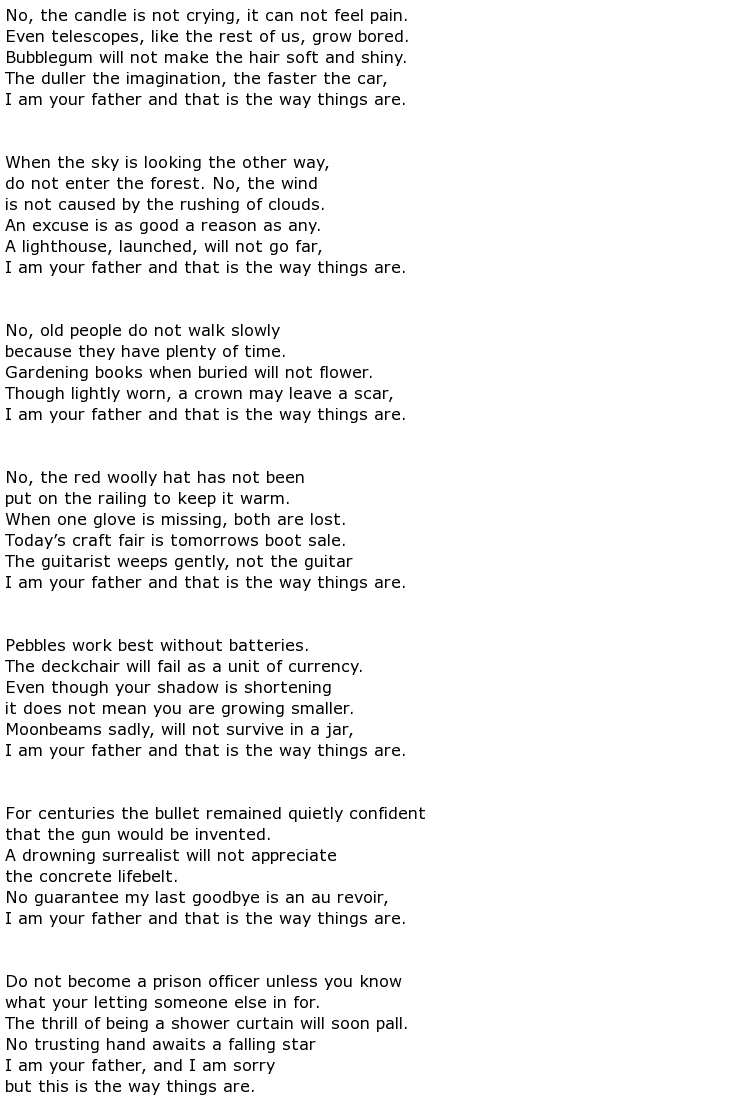 I hope you've enjoyed this glimpse of McGough's life and work. I encourage you to take a closer look at the way he approaches mundane topics and gives them a fresh perspective. And if you have any friends who are teachers, perhaps you might suggest they read The Lesson.