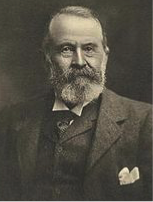 Rolf Boldrewood was the pseudonym sometimes used by the Australian poet and novelist Thomas Alexander Browne. His most famous book, Robbery Under Arms, which was published using the name Boldrewood, was a story set in 19th century Australia about renegade bushrangers who go about their business stealing cattle and committing armed robbery. It has been described by critics as one of the greatest Australian colonial novels ever written.
He was born Thomas Alexander Brown on the 6th August 1826 in London, the son of a ship's captain of the East India Company. At the age of five Thomas sailed to Hobart along with the rest of his family aboard a convict ship and they settled in Sydney. His father entered into the whaling business while Thomas was educated firstly at W T Cape's school in Sydney and then at Sydney College. One of his closest school friends was the son of the Collector of Customs for New South Wales and the boys enjoyed waterside holidays together at the palatial residence situated in the Sydney suburb of Point Piper.
As he grew up he had land acquisition ambitions and had several properties at one point, although his status in these properties, over a period of around 25 years, was as a squatter rather than owner. On a visit to England in 1860 he altered his name slightly to Browne and, on his return, spent time working as a gold commissioner and a police magistrate. He moved on to duties as a justice of the peace and mining warden although a charge often levelled at him was that he knew very little about gold mining.
He took up writing in 1865 while recovering from a horse riding accident. His early themes were pastoral life in Australia and many were published in various publications. By now he was using the name Rolf Boldrewood and a series of his short stories were published in London in book form, but with little success. They appeared originally in 1878 but were reissued 12 years later as The Squatter's Dream. Interestingly he chose the name Boldrewood after seeing it mentioned in a poem called Marmion written by his favourite author, Sir Walter Scott.
The name Rolf Boldrewood really came to the notice of the literary world with his epic book Robbery Under Arms, the first edition of which was published in 1888. Elements of the story were based on true events and characters. It was a love story, a tale of desperate robbers and a comprehensive view of the pioneers who struggled and eventually succeeded in the colonial Australia of the 19th century. Versions of the story have been turned into movies and both radio and television serials, broadcast in Australia and Britain.
It is believed that at least 20 novels were attributed to Rolf Boldrewood along with a lesser number of collections of poetry. A touching example of his poetry, called A Bushman's Lullaby, tells the tale of a dying bushman who wants to be laid on the banks of the creek so that he can see at least one more sunset before he dies. Here are the opening verses: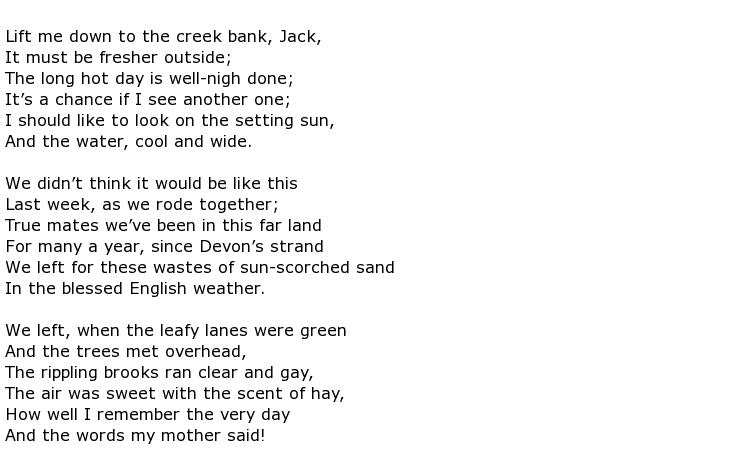 In his later years he retired to Melbourne and died on the 11th March 1915 at the grand old age of 88.