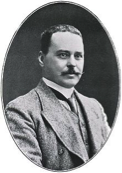 Ronald Ross was a multi-talented man whose, perhaps, minor achievements were in the field of literature. He was a poet, song writer and novelist but he is most famous as the British doctor who, while serving in India, discovered that the malarial parasite is carried by the mosquito. His pioneering, early-20th century work, was the forerunner to medical studies that would eventually led to a way to combat this terrible disease.
He was born on the 13th May 1857 into a British military family serving in India at Almora, known nowadays as Uttarakhand. His father was a high-ranking General in the British Indian Army. Aged 8, Ronald was sent to England where he lived with relatives on the Isle of Wight, off the southern coast. He attended school at Ryde but then went to the mainland for his secondary education at Southampton. His early studies inspired him to appreciate literature, art and music as well as mathematics. He won prizes for his writing and would have taken it up had it not been for his father's desire that Ronald should study medicine at St Bartholomew's Hospital Medical College in London.
He was a bit of a dreamer in the early stages and spent much of his time composing music or writing poetry. He did, however, pass the examinations set by the Royal College of Surgeons for England and his first position was as ship's surgeon on a steamship crossing the Atlantic. He was able to return to India in 1881 and so began his long career with the Indian Medical Service. He wanted to specialise in the study of bacteriology and took two years out to study in London, obtaining the Diploma in Public Health in May 1889.
His early breakthrough into the study of malaria came in 1895, involving the incredible dissections of tiny mosquitoes to study the contents of their stomachs. His discoveries inspired him to write a poem on the subject which was initially intended just to be for his wife's eyes only. Here is the poem, written in late 1897, which contains the famous line "O Death, where is thy sting":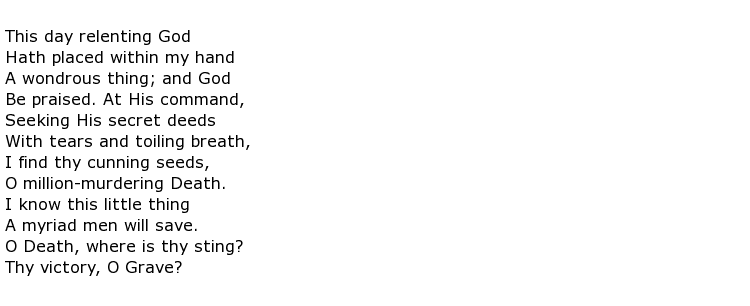 His work took him all over India and he became the foremost authority on the subject of malarial transmission. Although he returned to England in 1899, to lecture at the Liverpool School of Tropical Medicine, he continued to travel to various parts of the world. His efforts in Africa, Cyprus and Greece did much to bring greater understanding about the disease and he was awarded a Nobel Prize for "his discovery of the life cycle of malarial parasites", although there was some controversy surrounding the award. This concerned the claims of an Italian doctor who believed that he should at least share the award.
Ross was, undoubtedly, a brilliant man in the fields of science and literature but he was considered an egocentric and an eccentric. He was constantly at odds with colleagues, students and employers and complained bitterly about the lack of financial support for his work from the government. His work earned him a knighthood and a number of post-nominals but he was never a wealthy man. Despite his achievements he was forced to sell his own medical papers to support his wife and family.
Sir Ronald Ross KCB KCMG FRS FRCS died on the 16th September 1932 at the age of 75 following a long illness.