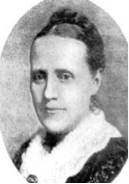 Rosanna Eleanor Leprohon was a 19th century Canadian poet and novelist who was one of the first Anglo-Canadian writers to become successful both amongst the English and French speaking elements of her country.
She was born Rosanna Eleanor Mullins on the 12th January 1829 in Montreal. Her upbringing was comfortable, being the daughter of a wealthy merchant of Irish-Catholic origin. She was sent to be educated at the Convent of the Congregation of Notre Dame. She was happy there and, later on, wrote two poems dedicated to the nuns that cared for her. These pieces of work were called A Touching Ceremony and On the Death of the Same Reverend Nun.
She began writing poetry and stories from a young age and was able to get some of her work published in the Literary Garland while still only 17 years old. During the following years she had serialised work published in the same publication, including so-called "novels of manners" which were acutely observed observations of the English middle classes and the way they lived. Her first novel, Ida Beresford, was also published in nine instalments throughout the year 1848. Fellow Canadian author Susanna Moodie wrote a glowing review of this book, calling it



Her literary output was interrupted when she was married in 1851 to a French-Canadian doctor, the couple having thirteen children. Only eight of them survived and it was not until 1859 that her next published work appeared, a novel called Eveleen O'Donnell which was serialised in a Boston magazine (The Pilot). Being married to a French-Canadian, as well as living in an area dominated by French-Canadians, influenced her work greatly and she used this experience to portray a unique view of life in the country that had never really been seen before in English-Canadian literature. Her next novel, again published in a magazine, reflected her new circumstances and was called The Manor House of De Villerai: A Tale of Canada Under the French Dominion.
Leprohon carried this style of writing on to her next two novels, stories very much depicting the Québécois history and culture. These last three books were published in both French and English and were very popular. She was also writing poetry though and an 1864 anthology called Selections from Canadian Poets included at least five of her poems. Here is an example of her poetry, the first three verses of a poignant piece honouring those, often desperate, people who crossed the Atlantic ocean hoping to find a new life in the Americas. Sadly, many of them did not survive the journey. It is called The Emigrants' Monument At Point St. Charles: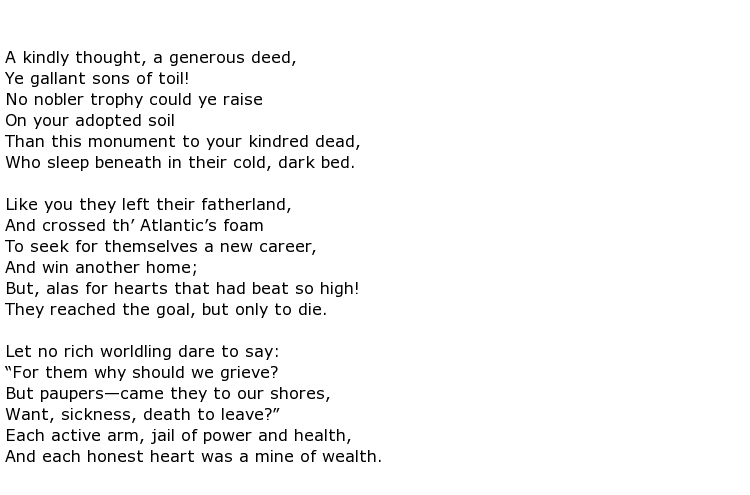 Leprohon was known throughout her lifetime principally as a novelist but she was, nevertheless, very well regarded as a poet during the 19th century despite her relatively small output of poetry. Her popularity waned as time went by though, with tastes and preferences changing amongst the literature reading public. Her work was gathered into a posthumous collection called The Poetical Works of Mrs. Leprohon, published in 1881.
Rosanna Eleanor Leprohon died in Montreal on the 20th September 1879 at the relatively young age of 50.