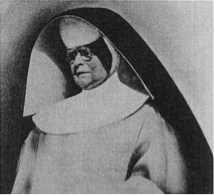 Rose Hawthorne Lathrop was an American poet and social worker who dedicated her life to the Catholic church, becoming a nun and then calling herself Mother Mary Alphonsa. For her achievements in the care of cancer sufferers she received a number of awards and, in 2003, she was canonised by the Cardinal Archbishop of the Archdiocese of New York. From then on she was known as "Servant of God in the Catholic Church".
She was born Rose Hawthorne on the 20th May 1851 in the town of Concord, Massachusetts. Her father was the novelist Nathaniel Hawthorne and, during her early years, the family moved around, living for short periods in London, Paris and Rome along with other European locations. They went back home to Massachusetts in 1860 and Rose's mother made a stand against mixed sex schools. She had the opportunity to send her daughters to a good school but said, in a letter to the headmaster:



Rose was eventually sent to a boarding school at the age of the thirteen but did not enjoy her time there. She was married in 1871 and they had a son who died of diphtheria in infancy. They lived for a time at her former family home in Concord before moving on to New York City and then New London, Connecticut. This latest move was because of her husband's poor health. Here they became involved in Catholic summer school projects and eventually collaborated in the writing of A Story of Courage: A History of the Georgetown Visitation Convent.
Inspired by this Rose had ambitions to become a writer, as her father had been, and she published a collection of poems in 1888 under the title Along the Shore. Many of her poems had religious themes or descriptions of the suffering that she witnessed as she visited people in their homes or hospitals. Here is a poignant piece about dealing with the death of a patient, called Broken Hearted: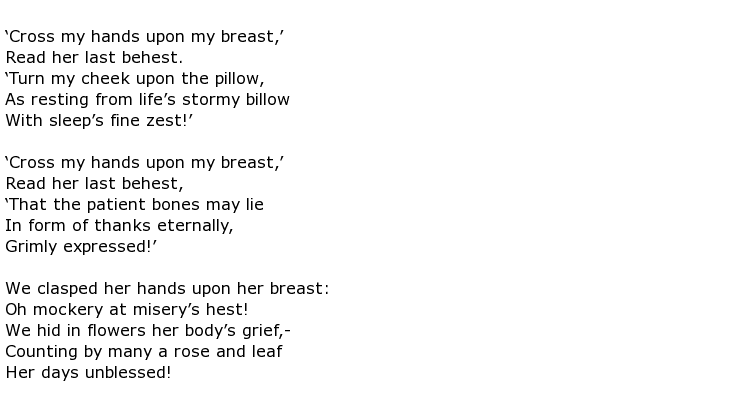 Her family life, unfortunately, began to deteriorate. She had problems with a brother called Julian who she suspected of forging a manuscript allegedly written by her late father, and her husband was descending into alcoholism. Her recent conversion to Catholicism gave her the strength to keep going and she soon immersed herself in charitable works for the poor people of Massachusetts. She aligned herself with the Sisters of Charity of Saint Vincent de Paul who were based in Wellesley Hills, Massachusetts.
She took an interest in the plight of cancer patients and dedicated herself to the care of those suffering from incurable illnesses at a time when general hospitals in New York City did not admit such patients. Rose found a training place at the New York Cancer Hospital. She progressed in this field, eventually opening the Sister Rose's Free Home to care for impoverished cancer patients in converted rooms that she acquired in a tenement block. Her work there came to the attention of a Dominican priest and she was encouraged to join the order. In September 1899 Rose became known as Mother Alphonsa and, with the help of a like-minded assistant, she founded the Dominican Sisters of Hawthorne. This facility exists today as the Rosary Hill Home in Hawthorne.
Still troubled by the activities of her brother Julian who was in prison Rose continued her good works right up until the day she died. This happened during the night of the 8th July 1926 and she died peacefully in her sleep at the age of 75.